Arts & Entertainment
Incubus at the Santa Barbara Bowl
Calabasas Rockers Deliver New Hits, Old Favorites to Sold-Out Crowd
Nearly two years to the day since their last show in Santa Barbara, the Calabasas alt-rockers of Incubus returned to the fold on Friday, bringing with them a smattering of hits that spanned the band's 18-year career. Starting things off was a delightfully well-received (if ill-timed) set from Britain's Duke Spirit, who charged the stage hard and undoubtedly scored a few new fans with songs like "The Step and the Walk" and "My Sunken Treasure" off their 2008 release, Neptune.
But all new pleasures aside, the night most definitely belonged to Incubus. Hitting the stage just before sundown proper, the fivesome greeted a sold-out crowd before launching into "Privilege" off their breakthrough disk, 1999's Make Yourself. From there, the set played out like a well-calculated musical version of This Is Your Life. Together, the bandmates knocked out a steady stream of their Top 20 hits ("Pardon Me," "Anna Molly," "Stellar") before moving on to the retrospective portion of the program, which fittingly was signaled by a stripped-down mid-show acoustic set.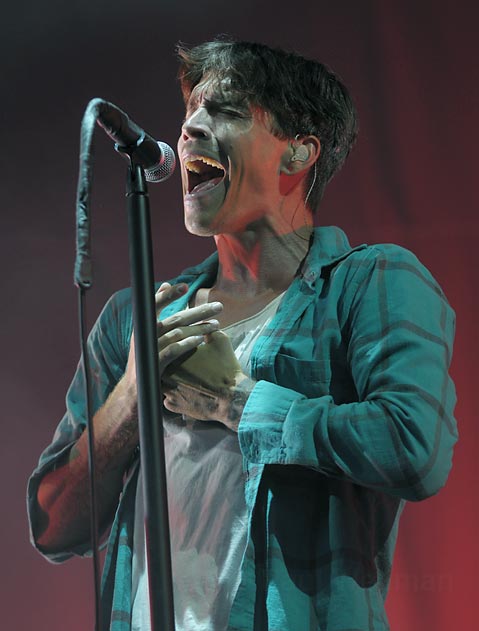 At the front of the stage, lead singer Brandon Boyd, guitarist Mike Einziger, and bassist Ben Kenney unplugged and dished out new arrangements for "Drive," "Dig," and the normally hard-rocking "Make Yourself." Unsurprisingly, the cooldown was greeted by a fair share of waving iPhones and lighters, but it also served to exemplify just how multi-pronged the band's career has been thus far. Touring in support of a new greatest-hits album, Monuments and Melodies, fans no doubt expected to hear the classics, and the band most definitely delivered with oldies like "A Certain Shade of Green" and "Redefine." Standing in successive contrast to radio gems like "Drive," these early-career, slap-bass-heavy rock-outs perfectly riled the crowd of old-school fanatics-and for the first time in the night really got the pit moving.
The later portion of the evening put a sharp focus on some of Incubus's more recent work, including the poignant "Oil & Water" and mosh-inducing "A Kiss to Send Us Off." The result was a performance that perfectly mirrored the band's career: outstanding, forward thinking, and just mainstream enough to welcome new fans as it continues to embrace the old.