Film & TV
Moon
Sam Rockwell, Matt Berry, and Dominique McElligott Star in a Film Written by Duncan Jones and Nathan Parker and Directed by Jones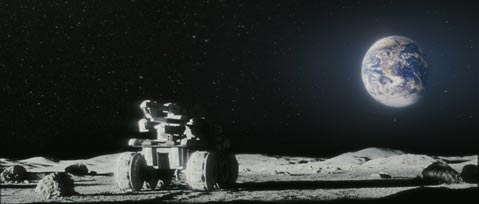 Right off you'll notice the visual links between Moon and Stanley Kubrick's epic meditation on technology, 2001: A Space Odyssey. It seems to hail from the same outer space interior decorating firm, from the hallways to the wall padding and uncomfortable-looking beds. And even though HAL has been replaced here with a wittier robot named GERTY (voiced by Kevin Spacey), we also can't escape a nagging dej vu feeling that a monolith might soon show up, or that this picture set on a moon-mining station might explode into psychedelic pandemonium. What really transpires in this latest existential man-alone-in-the cosmos tale indeed seems hallucinogenic at times. And though it's nearly impossible to discuss the film without letting slip the fun plot surprises, suffice it to say that Moon, among other things, actually is a more optimistic reassessment of Kubrick's vision.
But it's also nearly impossible not to see the film without thinking of David Bowie's Major Tom for the simple fun fact that Moon was written and directed by one Duncan Jones, born Zowie Bowie. It's deft and original yet open to these outside references. The idea of a disillusioned man spinning around in a tin can a million miles from his wife in a capsule that "knows which way to go" reinforces Jones's message nicely.
Still, the best part of this film is Sam Rockwell, virtually the only character we see. So slimy in The Hitchhiker's Guide to the Galaxy and arch-idealistic in Frost/Nixon, Rockwell seems well prepared to break into this uncharted territory where a range of convincing emotions are mandatory to carry the psychodrama-though Spacey's GERTY lends a hand with cleverly employed smiley-emoticons.
Whatever science fiction means to you, its hardened fans are less interested in ray guns and monsters than in a combination of ingenious manipulation of yet-uninvented things in conjunction with long-unforgotten rules of human nature. Among the wonders, there needs to be some truth. This film is real sci-fi, but also maintains a fascinating retro feel, like something opened fresh from the late 1960s, when the future still seemed like an awesome trip to take.