Sports
Reef & Run Revealed
Santa Barbara Now Has Two Weekly Run-Swim Nights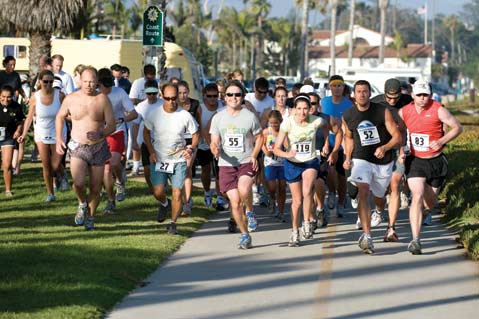 Nite Moves-a concoction of swimming, running, and socializing that draws crowds to Santa Barbara's Leadbetter Beach every Wednesday evening from early May to September-has been regarded as one of the only events of its kind in the whole country. Now it is one of two such events in town.
Reef & Run made its debut at East Beach on April 28, a week before Nite Moves began its 21st season. The new series is slated to go on for 20 Tuesday evenings. It offers a one-mile ocean swim in addition to the one-kilometer swim that is the staple of Nite Moves. There also are two different running distances, a two-mile and a four-mile. Refreshments and music are provided for post-race enjoyment.
Reef & Run is a bit more of a bargain than Nite Moves, with a seasonal cost of $175 and a per-event tariff of $15, with discounts for students and city employees. The founders of Reef & Run consider it to be a happier event. It is for them, anyway.
Alipasha Ziaee, known as "Posh," is the prime mover behind Reef & Run. He worked at Nite Moves as a paid volunteer for several years, but after last summer he parted ways with Jake Clinton, the longtime director of the original series. Joining forces with Posh were Richard La Claire and Jane Cairns, two other Nite Moves veterans.
They have found comfort in running their own show. "We want to have a peaceful, serene community event," La Claire said. "We intend to go nonprofit."
Cairns, a skilled organizer of swimming events, disputes the notion that Reef & Run is a direct attack on Nite Moves. "We don't have one malicious bone in our bodies about Nite Moves," she insisted. "Some of my best friends do both events." But it is telling that Posh said, "An event like this belongs to everybody in Santa Barbara. It doesn't belong to one person."
Clinton asserted that Reef & Run "has fragmented the community, not added to it." He said the number of full-season passes to Nite Moves has declined by 150 since last year to 270. "Is it the economy or a competing event?" he asked. Posh countered, "Having another event in town improves the quality of both events."
Nite Moves stands alone, as far as Clinton is concerned. "This is the event," he said. While upward of 400 people show up every Wednesday, the newer series has been averaging between 90 and 100. To some, the fact that Reef & Run lags behind Nite Moves in popularity is one of its main attractions. Also, the swim course is the same that will be used at the Santa Barbara Triathlon in August.
"I like the smaller numbers and the longer swim," said Cindy Braden. "I've done two Nite Moves, but all of these. It could double in size and not feel crowded. Reef & Run rules."
Jamie Allison, leader of the group Moms in Motion, said both series bolster Santa Barbara's status as a fitness paradise. "It's amazing to have these options," Allison said. "I have friends visiting from Austin, and they can't go outside there in the summer, it's so hot."
Suzanne Mollo also welcomes the new event. She started walking in Nite Moves three years ago after being diagnosed with Type II diabetes. "Now I have two nights a week to run with other people," she said. Asked if she had to choose between the events, she said, "I'd rather give up lunch."
GAME OF THE WEEK: The South hopes to stage a sequel to the 4th of July fireworks show during Friday night's (July 24) 42nd annual Santa Barbara County North-South All-Star Football Classic at SBCC's La Playa Stadium. John Uribe was one of the nation's most productive prep passers last fall at Santa Barbara High, chalking up an average of 379 yards per game. He will engineer the South All-Stars offense, with one of his favorite receivers, USC-bound Bryson Lloyd, lining up as tight end. Uribe will continue playing at City College, trying to convince scouts that he's another Doug Flutie, a smallish quarterback with a big arm. Will Gonzales, who retired as S.B. High's coach after last season, volunteered to coach the South All-Stars. The North All-Stars, coached by Mike Hartman of St. Joseph High (Santa Maria), will try to hold down the score. They succeeded last year in a 10-8 victory that tilted the series in their favor (19-18-1). Kickoff is at 7:30 p.m. Tickets cost $10 for adults, $5 for kids 4-12, free for the little ones. The Santa Barbara Suburban Kiwanis, sponsors of the game, will distribute the proceeds to nonprofits in the area.