Arts & Entertainment
No Doubt Return in Search of Their Muse
Gwen Stefani Reunites with Bandmates, Heads to S.B. Bowl
It was over dinner sometime last November that the seeds for No Doubt's current comeback tour were first planted. "Gwen said, 'Hey, let's go out and play some shows and just reconnect as a live band,'" recalled guitarist Tom Dumont. "[We thought], we'll all get in shape and we'll be together and be hanging out. Maybe this will be the thing that will prime the pumps, so to speak, for making an album."
Throughout the years, the '90s ska sensation turned worldwide rock phenomenon has laid claim to one of the most energetic and well-received catalogues in music history, as well as one of the most enigmatic frontwomen rock 'n' roll has ever seen in singer Gwen Stefani. So much so, in fact, that Stefani was able to go out on her own-and ingratiate herself to a whole new generation of fans-by way of two dance pop records, 2004's Love.Angel.Music.Baby and 2006's The Sweet Escape.
Following a five-year break, the Orange County rockers decided that it was time to work on a follow-up to their last release, 2001's dancehall-driven Rock Steady. But following a few unsuccessful bouts at songwriting by Stefani, the four bandmembers were forced to come to terms with the fact that the return of No Doubt just might not be in the cards.
"The beginning of last year, we had started getting together to write," explained Dumont recently via phone from a tour stop in Canada. "It was almost like trying to get pregnant; we kept trying to write but nothing was coming out. We took a break and we really didn't have anything to show for our sessions together."
Fueled by Stefani's eagerness to hit the road, the foursome vowed to put the album on the backburner in exchange for a string of cross-country concert dates with punk popsters Paramore. Touring became the band's strategy for regaining their No Doubt footing and finding the muse for their next record. Now, halfway through their summer-long tour schedule, the plan seems to be working.
"The production of it-the lighting and the staging and the video and the costumes-that whole side of this tour : it seems like we just nailed it," Dumont beamed. "Everyone's responding really positively. It makes us feel good, and that's kind of part of the idea. We're getting that boost of confidence and that buzz of excitement about the band again."
And for new mom Stefani, who gave birth to her second son, Zuma, in August of last year, that excitement is not just from the music. Since their last tour in 2005, life on the road has changed quite a bit for the band. "We have five little boys out here now," explained Dumont. "Gwen has two sons, I have two sons basically the same age as hers, and [drummer] Adrian [Young] has a seven-year-old boy, so it's very kid-friendly. We spend our off days with them at children's museums. After the show, rather than having a party, we tend to just hang out for half an hour and chat and go to sleep."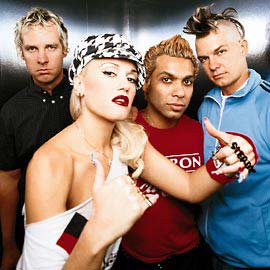 Dumont proudly gushed about his role as a father, recalling anecdotes about his son Ace and Stefani's eldest, three-year-old Kingston. But he's also the first to admit that parenting has and will continue to have a big effect on No Doubt's future. "We put together a mobile studio in [bassist] Tony [Kanal]'s bus, but honestly it's so exhausting being out here that it just doesn't feel like there's time to write," he lamented. "That's part of the problem and probably the biggest change, especially in Gwen's life. When you become a mother, you're used to living your life for yourself, and you have all this energy to put into something like being in a band and making music. And now, especially for a mom, you put everything into your kids."
Still, it seems like familial obligations are one of the few things that have changed for No Doubt. Onstage, Stefani and Co. are as energized, upbeat, and musically tight as ever, and the fans are still hungry for more. Just prior to the band's August 5 stop at the Santa Barbara Bowl, the quartet will headline four sold-out nights at Irvine's Verizon Wireless Amphitheater.
"The tour has been a shot in the arm for band morale," Dumont said. "We're having a lot of fun hanging out together, and everybody feels great coming off the stage every night, and I think that will translate into a big boost of energy when we come home and get together to hopefully make something great. That's the goal. It definitely feels like the right step on that path, as opposed to anything else."
4•1•1
No Doubt will play the Santa Barbara Bowl this Wednesday, August 5, at 7 p.m. Call 962-7411 or visit sbbowl.com for info.