News
B is for Building Height
Anti-"High Rise" Initiative Sparks Lawsuit
A Santa Barbara architect has filed a 95-page lawsuit challenging the use of the term "high-rise" by supporters of Measure B, a proposed Santa Barbara charter amendment that purports to save downtown Santa Barbara from "high-rise" development by reducing maximum allowable building height – downtown – from the current limit of 60-feet to a new limit of 40-feet. In addition, the initiative – which will be decided by city residents this November – would limit the height of new buildings outside of downtown's El Pueblo Viejo to 45 feet.
Architect Brian Hofer claimed the language deployed by Measure B supporters was seriously misleading and imprecise. Measure B could not protect against further high-rises, according to his lawsuit, because high-rises are already prohibited by existing city laws. Hofer noted that a "high-rise" is defined under the California Building Code as any structure 75-feet high or more. Existing city rules bar the approval or construction of any building over 60-feet high. Because of this, Hofer contended it's legally improper for Measure B supporters to claim they are protecting the city from further "high-rise" development, a term they use four times throughout their ballot arguments.
Bill Mahan, leading the charge on behalf of Measure B, saw it differently. "We feel the ballot argument is a political statement and that we have the right to use words the way we find them in the dictionary," Mahan added. He said he had two different dictionaries and that both defined a "high-rise" as a multi-story building. Wikipedia, he noted, states that there's no commonly agreed upon definition. "It's a matter of opinion," he said. "Most people would not automatically think to look it up in the state building codes."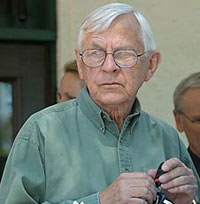 Measure B emerged out of growing community discontent sparked by the construction of three new mixed-use developments on lower Chapala Street. Many slow-growth advocates expressed concern about "the canyonization" of Chapala and the proliferation of sky-scrapers that they claimed threatened to gobble up Santa Barbara's small town personality and historic ambience. Ironically, Mahan – an architect and former member of the city's planning commission – had approved the developments he's now crusading against. In one instance, Mahan and his fellow commissioners affirmatively urged the developer to increase the height of the building then proposed to achieve better set-backs from nearby Mission Creek and to accommodate more units of affordable housing. None of the buildings that have since elicited community uproar were opposed by any of the usual watch-dog groups; the controversy ensued after construction commenced.
Initially, the threat of an initiative was regarded as an attention-getting device to focus members of the city council on the issue of tall buildings. By threatening to go directly to the people, members of Save El Pueblo Viejo had hoped the council would adopt an interim ordinance – or, better yet, a permanent measure – that addressed the issue. But after the group collected 11,500 signatures, many members had little interest in striking a negotiated deal with City Hall. Likewise, council machinations to place a competitive ordinance on the ballot failed to garner the necessary votes.
Measure B, as it would eventually be designated, attracted a mix of traditional slow-growthers opposed to density, preservationists, and a new infusion of energy by people vehemently opposed to the council's support for alternative transportation policies, especially the "traffic-calming" mechanisms known as bulb-outs and round-abouts. Opposing Measure B is an equally intriguing mix of developers, architects, and environmentalists concerned about urban sprawl, alternative transportation, and global warming, plus a coalition of social justice advocates worried that the more restrictive height limit would diminish opportunities to build affordable housing. This schism is well represented by the names and organizations signing the ballot arguments for and against Measure B.
Signing ballot statements in favor of Measure B – or arguments rebutting the opposition's ballot arguments – were three former mayors Sheila Lodge, Hal Conklin and Harriet Miller as well as current mayor Marty Blum and mayoral candidate Dale Francisco. In addition, former county supervisor Jeanne Graffy endorsed the measure, as did Frank Banales (director of Zona Seca), Sue Adams (president of the Pearl Chase Society), Connie Hannah (of the League of Women Voters) and finally, Mahan himself, with the Committee to Save El Pueblo Viejo.
Signing arguments opposing Measure B – or rebutting the rebuttal to it – are former city councilmembers Dan Secord and Gil Garcia, Community Environmental Council director Dave Davis, former City College executive John Romo, Julie McGovern with the Chamber of Commerce, Belen Seara with PUEBLO, Mickey Flacks with SBCAN, Alex Pujo with COAST, and Daraka Larimore-Hall with the Democratic Party.
Measure B's critics contend, among other things, that should the initiative succeed and an earthquake were to level such landmarks as the Granada, the Lobero, the Arlington Theater or Cottage Hospital, they could not be rebuilt without an affirmative vote of the people. Mahan acknowledged that to be the case, but he said that's true under the city's existing rules guiding height limits. The Arlington and the Lobero, he noted, stand 80 feet high, and Granada is 112-feet tall. None of these are allowed under the city's existing ordinance limiting buildings to 60 feet. If any of these historic structures were to be destroyed in a natural disaster, Mahan said he'd expect the City Council to place the matter before city voters. If not, he said, he'd collect the signatures himself. Mahan added that Cottage Hospital is currently spending $1 billion to seismically retrofit itself as a precaution against any earthquake, so presumably, he said, it would still be standing after the tremors faded.
But according to assistant city attorney Scott Vincent, the legal picture is more complicated than that. Vincent claimed that no election would be required to rebuild any of these structures – technically known as legal non-conforming uses – unless they lost more than 75 percent of their market value in the course of a natural disaster. Anything less, he said, and the owners would be allowed to rebuild without the requirement of a city election.