Visual Arts
Storylines: Narrative Works from the Permanent Collection at UAM
UCSB's University Art Museum Shows Narrative Art from Permanent Collection through September 27
The University Art Museum (UAM) is a collection of collections in the best sense. Exhibitions such as Storylines, which is based on the museum's permanent holdings, reinforce the idea that collecting, like art making, is a creative enterprise with a strong impact on culture in its own right. Whether the UAM displays its strong collections of Renaissance medals, Ghanaian artifacts, contemporary prints, artists' books, advertising art, documentary photography, vintage propaganda, or, as here, all of them at once, the result is the same. The fact that collectors often covet things mainstream art history pushes to the margins winds up bringing very disparate individuals and their obsessions into an unexpected solidarity.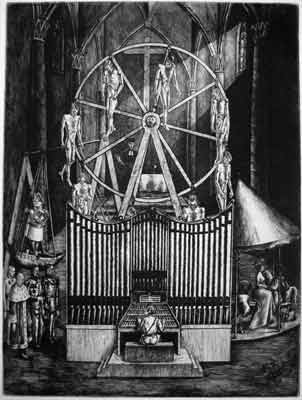 The central trope of art as narrative gets as generous an interpretation as it could well stand without flying apart. There are works that tell stories, works that reference storytelling, works that signify the social status and role of the storyteller, and works that interpret the telling of stories as a way of making meaning and establishing community. Chimu pots from Peru have yet to reveal their narrative secrets due to linguistic barriers, thus incarnating an exceptionally demanding variation on the story: the tale that is known to exist, but cannot be retold.
Macduff Everton's photos of modern Maya elicited joyous outbursts of recognition from several gallery visitors on the day I was there, all of whom exclaimed, "Quincea±era!" The way that Everton internationalized and revitalized the social documentary tradition of Dorothea Lange and Walker Evans with his work of the 1970s is a great chapter in art history due for a comprehensive telling. Across the way, a more somber-perhaps the most somber-story unfolds in Rudolph Carl von Ripper's series of etchings craser l'Inf•me (1938). These fantastic images of Nazi Germany as hell on Earth are among the most haunting works of art to come out of totalitarianism.
Storylines explores the connection between literature and art through a range of artists' books, objects, and paintings. David Hockney's fascination with the fairytales of the Brothers Grimm produced a series of suitably sinister illustrations and a marvelous pendant for the entire show in the form of a portrait, reproduced from the frontispiece of their first edition, showing the Grimms' principal informant, the extraordinary storyteller Catherina Dorothee Viehmann. Mary Heebner's "Hamlet" could pass for the work of a reincarnated William Blake. Such are the riches of this many-splendored show that the previous inventory can only indicate what awaits visitors to this never-ending story, wonderfully told.