News
Falcone Disqualified
Mayoral Hopeful Fails to Make Ballot
Mayoral candidate and two-term Santa Barbara councilmember Iya Falcone confirmed that she failed to turn in enough valid signatures to qualify for the November ballot. Falcone was five shy of the 100 signatures of registered city voters needed to comply with Santa Barbara election codes. Falcone said she was notified of this late Thursday afternoon. She said she plans to conduct an independent investigation of the signatures to determine whether her campaign can make up the shortfall. But regardless, said assistant city administrator Marcelo Lopez, Falcone's name will not appear on the November ballot, barring a judge's order.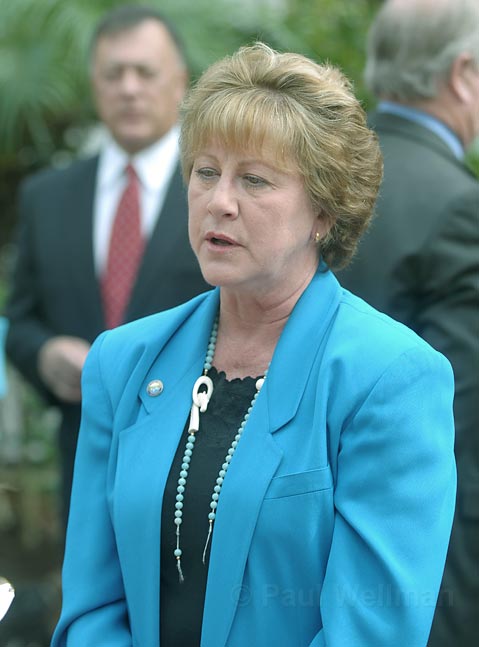 For Falcone's campaign, this is a screw-up of colossal proportions, akin to a football team losing the Super Bowl because the bus driver got lost on the way to the stadium. For most candidates, the collection of signatures is nothing more than a technical formality. But in this case, Falcone's campaign cut things unusually close, submitting only 118 signatures in total when the maximum number allowed is 200. Typically, most candidates expect that a sizable percentage of their signatures will prove to be invalid and then compensate by turning in far more than needed. But with only 18 signatures to spare, Falcone's margin of error proved perilously slim.
When the mayoral contest started, many political observers surmised that the race seemed to be Falcone's to lose. At the beginning, it was a show down between Falcone – a centrist Democrat with strong backing from the police and firefighter unions – and fellow councilmember Helene Schneider – who emerged put of the liberal-progressive wing of the Democratic Party. In that equation, the city's more moderate and conservative voters were expected to fall for Falcone, whose mayoral aspirations have been the stuff of City Hall comment and speculation for many years. But in recent months, the field has expanded considerably, with a host of serious candidates competing for the right-of-center constituencies. Chamber of Commerce president Steve Cushman, a registered Democrat, jumped in, promising political independence from public employee unions and fiscal discipline during a time of budgetary crisis. And Isaac Garrett, a real estate agent long active with the NAACP, joined the fray, with a critique similar to Cushman's. And two weeks ago, councilmember Dale Francisco, the City Council's sole Republican, threw his hat into the ring as well.
If Falcone – who has already raised $61,000 in her mayoral bid – is not allowed back on the ballot, her absence from the campaign will probably boost Cushman's fortunes the most. And as a result of Santa Barbara's term limit ordinance, it will also spell the end of her council career a least for the time being.
According to city election code, five criteria exitst by which a signature can be deemed invalid: if the person is not registered to vote at all, if the person is not registered to vote in the City of Santa Barbara, if the person signed the petition of anyone else running for mayor, if the person's residential address on the petition does not match that of their voter registration, and if the signature on the petition does not match that on the voter registration form. According to assistant city administrator Macelo Lopez, four or five signatures were disqualified in each of the last three categories.
If Falcone can produce evidence demonstrating that the challenged signatures were, in fact, valid, she may be able to re-establish herself as a mayoral candidate. "What would it take to make such changes?" asked Lopez. "It would take a judge. It's not for us to determine. We're finished."
Falcone said she plans to move expeditiously, and assess her options as more information becomes known.