Books
Chaucer's Packs End of Summer Punch
Store Hosts Book-Signings for Candacy Taylor, Ann Levine, Byron Larsen
WARMING UP: With this final column of the summer, we wrap up a season that's traditionally light on lectures, what with both readers and authors off on vacation and our beloved academic institutions lying relatively dormant. Hence the term "summer reading," I suppose. This is the last stretch of the year when readers, free from talk about books and book events, can actually sit down and do some reading. And with about two weeks to go, perhaps you can polish off a few pulpy novels, or a decent chunk of that brick-like tome you've been meaning to crack open. Still, if you're inclined to get out and see with your own eyes what our reading and writing communities are up to, here's the lowdown on the rest of summer's happenings.
FRIEND, CONFIDANT, POURER OF DECAF: With origins in a recent UCSB multimedia art exhibit, Candacy Taylor's Counter Culture: The American Coffee Shop Waitress documents the cultures that have developed in and around our country's coffee shops-not to mention the career waitresses who give these places their true identities. As a photographer, writer, artistic ethnographer, and former waitress herself, Taylor traveled the United States gathering these waitresses' life stories and capturing images of them doing what they do best: not just serving food, but enriching lives. On Saturday, September 5, at 7 p.m., Taylor's journeys bring her to Chaucer's Books (3321 State St.) for a talk and signing about this under-examined cultural phenomenon.
LEARN THE RULES BEFORE YOU LEARN THE LAW: Also at Chaucer's, Ann Levine will appear in support of her new book, The Law School Admission Game: Play Like an Expert. Any students considering putting in an application to law school know full well that they must prepare themselves to run a selective, highly competitive gauntlet before the heavy oak (and no doubt ivy-bordered) doors open for them. Few have positioned themselves as well to learn the inside secrets of how law school admission departments work than Levine, a professional admissions consultant and the blogger behind Law School Expert. She'll show up to sign copies of her guide and discuss the trickiest academic game of them all on Tuesday, September 8, at 7 p.m. Admission's one thing, but as for the studying-you're on your own.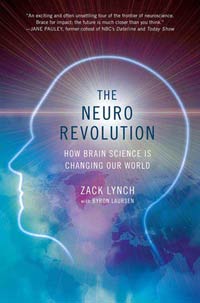 THE FOURTH REVOLUTION: Byron Larsen's visit on Thursday, September 10, completes the official Chaucer's hype for this column. Larsen, alongside Zack Lynch, has co-authored The Neuro Revolution, a primer on the potential changes neurological science and engineering could have on humanity. To the authors' minds, we've gone through the agricultural revolution, the Industrial Revolution, and the information revolution, all comparatively small potatoes when set against the coming transformative "neuro revolution." Larsen and Lynch argue that we'll gain the knowledge and skill needed to cure brain diseases that now seem unbeatable, but whose defeat represents only the tip of an iceberg of change large enough to touch business, war, law, religion, and the arts. Larsen's chat about the nature of the neurologically driven developments in these fields and others begins at 7 p.m. For details on all Chaucer's events, call 682-6787 or visit chaucersbooks.com.
WORDS CELEBRATED, ENCHILADAS DIGESTED: Readers looking to improve their verse could do much worse than spending the day with Barry Spacks, Perie Longo, David Starkey, and Chryss Yost, four of Santa Barbara's best-known poets. On Sunday, September 13, the foursome returns with Poetry on Tap, their monthly series of all-day poetry workshops at Blue Agave (20 E. Cota St.). From 9 a.m.-5:15 p.m., they'll lead participants through readings, discussions, small-group workshops, writing prompts, read-alouds, lunch, an all-group reading, and, naturally, a bit of socialization at the restaurant's cash bar. Call 899-4694 for more information.