Arts & Entertainment
Pianist Warren Jones Kicks Off Two Important Musical Seasons
Pianist Warren Jones Plays Concerts With Camerata Pacifica and Soprano Talise Trevigne This Weekend
Young musicians are often advised to specialize. Building a career is no easy thing, and conventional wisdom contends it's smart to carve out a distinctive, marketable niche.
Warren Jones begs to differ. "Music is a big, wide world," he insists, "and we (musicians) should do as many things as we can."
A reliably sensitive and thoughtful keyboard artist, Jones doesn't just preach this philosophy: He embodies it. Having recently completed one of his annual teaching gigs-in his 17th summer at the Music Academy of the West-Jones is back in town this weekend, performing in two very different programs.
Friday, he will open Camerata Pacifica's 2009-10 season with a pair of chamber music concerts at the Music Academy's Hahn Hall. Saturday night, he will be at the piano when soprano Talise Trevigne-his former student at the Manhattan School of Music-makes her local debut in the Granada Theatre.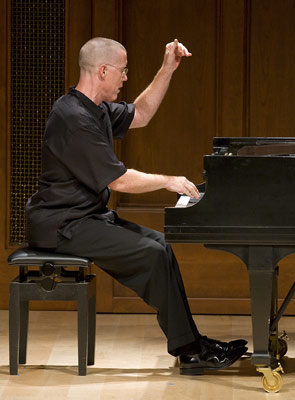 Perhaps it's this proclivity to mix things up-by playing with singers, performing chamber music, teaching, and even conducting a bit-that keeps Warren Jones so energized 52 years into his career. (He gave his first public recital at age 5.) There's a palpable sense of wonder and joy when he talks about music; you can see it in his face as he describes a new discovery, or recounts an amusing incident.
This enthusiasm emerges with particular force when he talks about Trevigne, a rising star who will perform at the New York City Opera's Reopening Gala in November. Jones first met her a decade ago when she auditioned for, and was awarded a spot in, his yearlong seminar on the collaborative relationship between singers and pianists.
"She's a delightful colleague," he said. "Her intuition is very strong. She has a fairly light lyric voice, which she uses to great effect. She's not going to yell you out of your seat, but she'll very likely charm you out of your seat."
Trevigne returned the compliment. "He is on what I call my board of directors-my go-to people," she said. "It's nice how our relationship has evolved, from teacher to mentor to collaborator."
Trevigne was born and raised in Los Altos, in the San Francisco Bay Area. As a girl, she was determined to become a professional dancer, but a knee injury in high school abruptly burst that dream. "I shifted gears," she recalled. "For a while, I thought I was going to be an attorney, like my godmother."
In need of an elective to fulfill her graduation requirements, she enrolled in a singing class. "I was always in the school productions (as a dancer)," she reasoned. "So I thought, 'It'll fill a period and it won't be too stressful.'"
The instructor noticed her talent immediately, giving her a solo part in a school recital. "We were in class rehearsing one day and he called my mother," she recalled. "He said, 'You need to come down so we can talk about Talise.' She thought I was skipping class or something. He told her I should consider taking voice classes."
So, at age 16, Trevigne began studying with Page Swift, a member of the San Francisco Opera Chorus. She recommended moving to New York to attend either Juilliard or the Manhattan School of Music. Trevigne was thrilled by the idea; her mother, not so much.
"She said I couldn't go," Trevigne recalled, adding that this decision inspired her first real act of teenage rebellion. With the help of some friends, she forged her mom's signature on the application and mailed it in. She was invited to audition for the dean of the Manhattan School of Music when he came to San Francisco, and afterward he offered her a full scholarship on the spot.
Trevigne ended up earning both her bachelor's and master's degrees at the school, which she called "a great place to grow up as a musician." She then moved to London, where she lived for five years as she performed around Europe. She returned to New York a year ago, and is singing more and more frequently now in the U.S. Next spring, she will portray Pip in the world premiere of Jake Heggie's Moby Dick at the Dallas Opera.
"I just did my first Mimi in La Bohme," she reported. "I die and cough well. I've got it down to a science. They teach you [that] there is a productive way to cough so you can sing that high note at the end. There's also a way to fall on the floor and not break any bones."
Her Granada program Saturday night will feature music of Haydn, Faure, and Richard Strauss and conclude with Tres Poemas by Spanish composer Joaquin Turina. "They're three wonderful songs," Jones said. "The three poems all compare the poet's love to water, in one way or another: 'Your eyes are blue like the ocean,' or 'There are waves of emotion coming over me.' I thought that'd be nice for Santa Barbara."
In an intriguing coincidence, Friday's Camerata Pacifica concerts also feature music by Turina: his Quartet for Piano and Strings, Op. 67. In addition, the program features To the Four Corners, a contemporary work by Huang Ruo that has been newly commissioned for the ensemble, and Ludwig van Beethoven's Op. 16 Quartet for Piano and Strings.
The latter work is a transcription Beethoven wrote of his own Quintet for Piano and Winds. Artistic director Adrian Spence has scheduled the original wind version of this piece for April (with Anna Polonsky at the piano), so subscribers can decide for themselves which version they prefer.
Jones will be back for the February and May concerts of Camerata Pacifica. The February program will provide audiences a rare opportunity to hear him play a major solo work, the Three Intermezzi of Brahms.
"They're some of my favorite Brahms, but I've never had a chance to play them," he said, noting that he worked on the pieces during his spare time in Santa Barbara this summer.
"I tell my students that you always have to be working on solo music," he said. "Any musician has to come to the collaborative process with his or her own ideas. The only way to continually develop your own ideas is to play your own music. You have to be able to do it by yourself to do it with others. In music as in life, a lot of relationships founder because one of the partners doesn't know what he or she wants."
That will never be a problem for Jones and Trevigne. "She's very forthright about what she likes and doesn't like, which makes it easy to work together," he said.
"The things that are important to him are important to me," she added. "We just get each other."
4•1•1
The Camerata Pacifica 2009-2010 season opens on Friday, September 11, at Hahn Hall, Music Academy of the West, at 1 and 7:30 p.m. For tickets and more information, call 884-8410 or visit cameratapacifica.org. Talise Trevigne and Warren Jones will appear in recital at the Granada on Saturday, September 12, at 8 p.m. For tickets and information, call 899-2222 or visit granadasb.org.