Columns
I.V.: A Birding Nirvana
Cat Neushul Flocks with Feathered Friends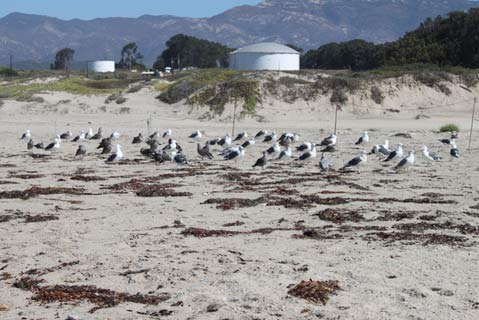 If you're like most people, you notice birds but don't always take the time to take a closer look.
Sometimes a bird encounter can stop you in your tracks. One day I watched a red-tailed hawk swoop down in the Camino Corto Open Space and return to flight with a wriggling mouse in its talons. Another time I watched transfixed as a great blue heron walked majestically through the wetlands. I've heard they find gophers tasty. It's these up-close-and-personal glimpses of nature that remind me what a beautiful place we live in.
If you're a bird enthusiast you know the names of all of the Santa Barbara area indigenous birds, can differentiate between a snowy egret and a great egret, and realize that there are several different kinds of gull that live along the Southern California coast including Bonaparte's gull, Heermann's gull, mew gull, and the California gull, just to name a few. They are all slightly different and can be distinguished from one another by looking at their beaks, coloring, size, and shape.
One morning I set out on a bird-watching walk to get a better idea of all the different bird species in the I.V. area. According to the 2009 Audubon Society Christmas Bird Count, volunteers identified more than 70 species during a four-hour period in the Coal Oil Point Reserve area. I hadn't even scratched the surface in my previous walks.
I started my bird tour in the Camino Corto Open Space. The first bird I saw was a scrub jay sitting on a fence. I love its blue and gray coloring. The next type of bird was a bit more dramatic. There were two turkey vultures circling over their next meal near Isla Vista Elementary School. Take a look at what these birds look like when you get a chance. They're interesting, but a little creepy.
Next, I walked by what I'll refer to as the "bird tree." I heard twittering and looked up into a tall eucalyptus tree containing at least 100 small black birds I later identified as Brewer's blackbirds. It seemed like they were having a kind of bird get-together. Wonder what they were saying to one another?
As I made my way along the Devereux Slough I encountered another kind of interesting specimen: the bird-watcher. You can see them in the mornings and evenings, with their binoculars and cameras, watching the birds in the slough or near the shoreline. I found this particular bird-watcher standing beneath a tree near the old Campbell estate. He was calling up to a bird in a tree. He thought it might have been a yellow warbler, but he wasn't sure. "It may be a migrant, or a resident. I can't tell from its call," Nick Lethaby, an area resident, said.
Lethaby said he has been a bird-watcher for more than 35 years. He said he comes out every day, usually to look for shore birds. One day he said he had a rare treat when he saw a stilt, a marine bird.
I can see the allure. You can get a little obsessive trying to distinguish between sandpipers. You look back and forth between pictures to determine whether their bills are curved or straight, or whether the markings are the same. You also want to know which birds are making what call. Instead of assuming every caw is made by a crow, you start to hear the different variations in the sounds. You also find out the details that distinguish one bird for another. For example, although a raven and crow may look similar at first glance, ravens are larger, have a diamond or wedge-shaped tail, a larger bill, and longer throat feathers.
With a little help from Web sites such as the Coal Oil Point Reserve bird page, I have identified some of the shore birds I've seen on the beach. I now know that the bird I have seen skimming along the waves, looking a little like a pterodactyl, is a brown pelican, as opposed to an American white pelican. I know that the gull I saw down at Devereux, gathered, yes, in a flock, was a western gull, as opposed to a California or ring-billed gull.
And then of course, you can't forget about the snowy plovers. You can find them along the shoreline near Sands Beach in an area roped off, and numbered for easy identification of nests. On my particular bird-watching day, I saw at least 20 snowy plovers sitting camouflaged in the sand or scurrying along the beach in their two step. According to 2008 statistics posted on the Coal Oil Point Reserve site, there were about 57 snowy plover nests in the area and 39 young chicks, as opposed to the 2001 count of one nest and one fledgling chick. In 1993, snowy plovers were becoming uncommon in the area and were placed on the federal Endangered Species List. They are now making a comeback in the area due to conservation efforts. The dunes have been roped off to allow the snowy plovers to nest peacefully, and people are educated about the need to respect their habitat. Skunks, crows, and raccoons can also wreak havoc with the snowy plover population, by stealing the eggs, but reserve representatives are tackling this issue as well.
While I'm not trying to suggest that you get bird books and start looking through them obsessively like I've been doing lately, I would say that everyone should take the time to check out the birds in their area. You haven't seen anything until you watched a kite hovering over its prey like a helicopter coming in to land, or watched the swans at the UCSB lagoon, or listened to the Canada geese as they cross the wetlands in their noisy way. It's kind of like taking the time to smell the roses, and it's worth it.