Visual Arts
Fall Arts Preview: Visual Art
Fall Arts Preview
One of Santa Barbara's newest visual art ventures is Paul Cumes Fine Art, where the owner displays his vivid figurative paintings now through Sunday, October 25.
Nearby, at the Architectural Foundation, the Victoria Street Watercolor Group has already launched the season with a show that runs through Friday, October 9. Later in the year, the gallery hosts the 20th annual Kids Draw Architecture exhibit Wednesday, December 2, through Friday, January 8.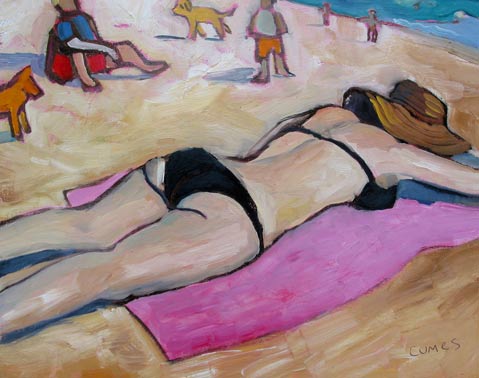 Now through Sunday, September 27, Artamo Gallery hosts a group show, Ars Metallica, featuring new works in metal by Jacques D'Auteuil and Taraneh Mozafarian among others. One block away at Sullivan Goss, An American Gallery, nostalgic Americana-inspired works by contemporary realist Robert Townsend are on display through Sunday, November 29, as are Robin Gowen's plein air California landscapes.
Westmont College's burgeoning art program is poised to enter a brand-new space in 2011, and its current show, Sordid and Sacred: The Beggars in Rembrandt's Etchings, opens the Reynolds Gallery's last full season on a triumphal note with works by the Dutch master on display now through Saturday, October 31.
Among the Arts Fund's offerings this fall are Individual Artist Award-winner Richard Aber's Nomadic Sculptures, on display Friday, September 11, through Friday, October 23. And between Thursday, October 1, and Friday, January 29, the Arts Fund celebrates 20 years of IAA winners with an exhibition at Channing Peake Gallery. Between Saturday, September 19, and Saturday, October 24, Rod Lathim's assemblage show Reinventions will be on display at Art Resources.
The Santa Barbara Museum of Art also tackles the theme of old and new this season, starting with Noble Tombs at Mawangdui, an exhibition of Chinese burial art and artifacts dating from as early as the 3rd century bce. The show runs Saturday, September 19, through Sunday, December 13. Between Saturday, October 24, and Sunday, January 31, the museum will display installations by contemporary video artist Diana Thater.
Collectors should mark their calendars for Saturday, September 26, and Sunday, September 27, when the Santa Barbara Museum of Natural History holds its annual art sale and festival, ArtWalk.
Of course, the monthly art party continues this fall with 1st Thursday, your excuse to stroll downtown and revel in the many forms of creative expression you'll find there. Among the related events planned for Thursday, October 1, is Jessica Findley's Aeolian Ride, a participatory public art happening involving bicycles and costumes and hosted by the Contemporary Arts Forum.
In the realm of the abstract, Patty Look Lewis will hang paintings by Michael Armour Thursday, October 1, through Monday, November 30, and Frameworks displays new work by Sally Chiu and Saritha Margon between Friday, September 18, and Saturday, October 31.
Later in the year, SBCC's Atkinson Gallery hosts nationally acclaimed artist Alison Saar, whose sculptures, drawings, and prints will be on display Friday, November 13, through Friday, December 11.
And that's just the beginning. For regular updates of art exhibitions around town, check The Independent's museum and gallery listings in print each week.