Opinion
Our Lady of Guadalupe Demolished
Reconstruction Underway on Eastside Church
Mass in a Tent: The venerable Our Lady of Guadalupe Catholic Church, on Santa Barbara's Eastside, is being demolished to make way for a $1.7 million reconstruction.
Meanwhile, the mostly Latino parishioners attend Mass in a "revival-style tent" in the parking lot, according to architect Gil Garcia. He expects the new, expanded church to be finished by April, in time for the parish's annual Fiesta event during Old Spanish Days.
The new church will follow the historic design of the 1875 building, which was the parish hall at Our Lady of Sorrows Church before being moved to the present location at 227 N. Nopal St. in 1927 after the massive 1925 earthquake. It was listed as a Building of Merit, Garcia said.
In addition, a cupola tower will be constructed over the altar for lighting effect, and two side chapel wings will be added, Garcia told The Independent on Thursday, September 10. One wing will extend out to where the former Sisters of Bethany chapel was located. It was demolished following a controversy in which the Los Angeles Archdiocese ordered the three resident nuns to leave.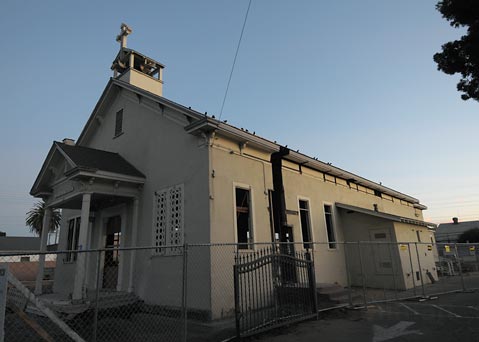 The Archdiocese said the property had to be sold to help pay for settlements with victims of molestations by priests. The parish, however, kept the property for the expansion project, paying the Archdiocese an undisclosed sum. Seating will be increased by 132 to a total of 484, Garcia said. There will also be 484 parking spaces, also an increase of 132, using part of the former convent property.
The $1.7 million cost, which includes pews and other furnishings, is being paid from parish reserves and fund-raising, Garcia said. Forty-foot-long redwood floor joists will be replaced by concrete, he said.