Dance
New Performance Art Forum at Yoga Soup
NECTAR Explores Darker Themes Through Art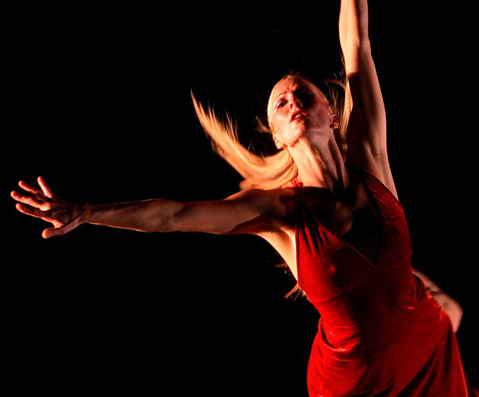 When Cybil Gilbertson learned that her aunt Barbara had committed suicide, she reacted in the way she knew best: She started dancing.
As a massage artist, a Pilates and yoga teacher, and a longtime member of Santa Barbara Dance Theatre, Gilbertson knew she had to allow her body to experience and express her grief. But she also wanted to give it words. Working with her father, David, a folk musician, Gilbertson created "Skinny Long Legs," a dance theater performance that incorporated writing, music, and movement. The piece was a testament to her aunt's life as well as a cathartic process of accepting the loss. What Gilbertson hadn't expected was that the work would touch her audience deeply. "I was approached by one person after another who was moved to tears," she remembered of her first performance of the piece in 2007. "I was reminded of my calling and purpose as an artist: to share, and to help create a moment of truth."
Two years later, the memory of how her art affected people so profoundly is driving Gilbertson to create a forum for other artists to share their work. She's calling it NECTAR, a name meant to emphasize the power of the arts to nourish and heal, and inspired by the writings of the Indian mystic Osho who claimed "everything is nectar." The first event of the series takes place this coming Saturday evening, September 26, at Yoga Soup, where dancers, musicians, photographers, and spoken-word artists will share work related to the theme of love and war.
"I really want to work with more shadowy parts of our culture," Gilbertson explained over an a§a- berry smoothie last week. "Whether it's war, homelessness, AIDS, or Proposition 8, there's always more room for education. I feel like the arts can be the vehicle to soften heartstrings, and through that channel, more education can pour in." Her vision for NECTAR is that artists of all disciplines will come together every two months to share work based around a social or political theme, and that each gathering will be connected to a related organization in the community. November's NECTAR is already slated to focus on violence and transformation, and part of the proceeds will go to the Glendon Association, a Santa Barbara-based nonprofit that focuses on suicide prevention. Gilbertson plans to perform "Skinny Long Legs" as part of the evening.
While Gilbertson is familiar with launching her own businesses and artistic ventures, she's clear that NECTAR is something different. "I really wanted to create a forum that's not just about me," she explained. "I like bringing up stuff that's more gritty; that's more universal." The question that compels her, she said, is not, "What have we experienced?" but, "How can we together transform our experiences?"
Whether NECTAR has the power to transform experience for those who take part remains to be seen, and Gilbertson acknowledged her dance with doubt. "We can so easily sit down in the mud and say, 'Shit, the whole world is going to hell in a hand basket,'" she said. "As an artist, I often think, 'What are we really doing?' It's not politics, or turning the land. Sometimes I struggle to be in the place of love when I feel really bogged down or dark. I can't do it alone. I don't have an interest in creating just for me. As dancers and artists, we know on some level that it's about community."
And it's community that Gilbertson hopes NECTAR will feed, through presenting talented performers and artists in a setting where they can explore difficult topics with candor and vulnerability. "It's a privilege to be an artist, to share this gift," Gilbertson remarked. "It's really about how we support and encourage each other. One definition of a hero is someone who transforms pain into light."
4•1•1
The first installment, called NECTAR: Love and War, takes place this Saturday, September 26, from 8-10 p.m. at Yoga Soup (28 Parker Wy.). Tickets are $10, and $5 for children younger than 12. To learn more, call Yoga Soup at 965-8811. Those interested in participating in future forums should email Cybil Gilbertson at cybilleo75@hotmail.com.