THE KIDS ARE ALRIGHT: With this past weekend's West Beach Music Fest providing a big-scale stage for some of S.B.'s brightest rising stars (Loomis & the Lust, The Sunshine Brothers, Iration, just to name a few), it seems like the scene is finally starting to get its long-deserved props. And this week, the youngsters continue their takeover with a series of live shows that stretch from I.V. to downtown throughout a seven-day span.
First up, Jensen's Mainstage (2905 De la Vina St.) plays host to a slew of in-town rockers and L.A.-based heavyweights this Saturday, September 26, at 7 p.m. On the nightlong lineup are Santa Barbara's own Verna Beware and The Little Heroes, as well as La La Land-ers Saint Motel and The Jakes. The evening is perhaps one of the most top-notch collections of talent Jensen's has put together of late, with literally every act being a worthwhile catch. Of particular note: the four-piece powerhouse pop of Saint Motel. These guys know how to write a hook, with tunes that call to mind everyone from the Beach Boys and '60s Brit pop invasioners to modern-day big deals like We Are Scientists. Meanwhile, our own Little Heroes promise to mellow things out a bit with their delicate, piano- and guitar-fueled pop rock. Think Something Corporate, sans the nasal vocals. For more info and tickets, call 563-3200 or visit myspace.com/underdogbp.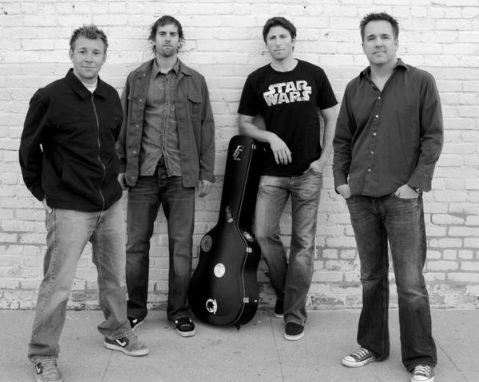 SPEED DEMONS: If a taste of old-school S.B. is what you're after, be sure to head out to SOhO (1221 State St.) this Thursday, September 24, at 7 p.m., when the Nicky Shane Band teams up with Redswitch, Matthias Clark, Black House, and Panik Attack for a night of music from some of the county's hardest rocking standing outfits. For Shane, the evening will be an extra special one, as he'll be unveiling the band's new, formal lineup and a bunch of recently completed tunes as part of their headlining stint. Call 962-7776 or visit sohosb.com for details.
LOCATION, LOCATION: This week also boasts concerts from some of the area's most unexpected venues. On Saturday, September 26, Trinity Backstage returns to downtown's Trinity Episcopal Church (1500 State St.) with a night of intimate music making from Dana Cooper. Unlike so many of his singing Southern neighbors, Cooper's songs are not all shticky honky-tonk. Expect an upbeat blend of classic country, catchy pop, and strong vocals that beg comparison to the great James Taylor. Add to that a quiet, coffeehouse vibe and a room full of true music appreciators, and you've got yourself the makings for one fine night on the town. For tickets and info, visit trinitybackstage.com or email songs@katewallace.com. The show starts at 8 p.m.
Also this week, Isla Vista's Biko Co-Op Garage is back in full swing with a night of music from a wealth of traveling acts. On Friday, October 2, the tiny, mural-adorned room plays host to Olympia, Washington's Desolation Wilderness (a lo-fi, vintage-loving trio la Beach House), Christmas (screaming psychedelia with punk attitude and lots o' distortion), Magick Orchids (a whacked-out evolutionary jump for the math rock genre), The Endless Bummer (Casio pop with vocals similar to Dent May's speak-sing), and my favorites of the night, Railcars. To describe this band's auditory onslaught would be to take away from their awesomeness, but the sounds fall somewhere in between Crystal Castles' brand of computer chaos, Animal Collective's love of looped noise, and Ziggy-era Bowie's fascination with all things outer space. The result is a hodgepodge of computer noise, ambient pianos, and vocals so distorted we can barely tell they're there. The show starts at 8:30 p.m. And visit sbdiy.org for details and what's coming up at Biko.