Positively State Street
ThreadSpinner Launches Album, New Noise Approaches
Piano Pop Quartet Brings New EP to Center Stage Theater This Week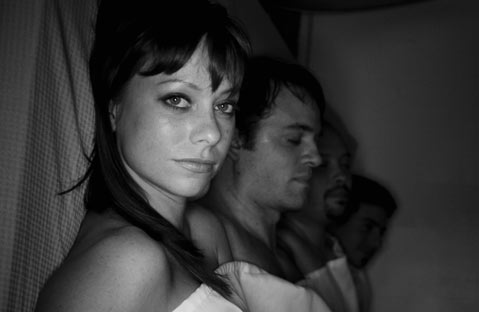 NOT SO SILENT NIGHT: If you have yet to partake in the beautiful sounds coming out of Santa Barbara four-piece ThreadSpinner, well now's your chance. Since forming back in 2007, the band has been making waves throughout the S.B. scene with their powerful piano pop balladry. Made up of husband and wife John and Sarah Ziebarth (guitars/mandolin and keys/vocals, respectively), Warren Crone (bass), and Jesse Cardin (drums), the quartet walks the fine sonic line between a fully fleshed out Tori Amos record and the decidedly more soft-spoken Joanna Newsom. In the live setting, frontlady Sarah undeniably steals the show with her loud-then-soft vocal cues and piano parts, whether backed up by lush instrumentals or left to belt it out alone onstage. And with the release of their new six-song EP, Night Chorus, the band proves they're also capable of pulling it off in the studio.
Sprinkled with pounding piano breakdowns, spot-on drums, and some of the prettier guitar parts I've heard in months, Chorus delivers a near-perfect snippet of ThreadSpinner's grander plan. On "30+1," Sarah's deeply personal lyrics and soulful vocals beg comparison to early Fiona Apple, while the disk-closing "Running Away" features guitar, bass, and keys that collectively wax, then wane, to create an instrumental onslaught of epic proportions. But perhaps most importantly, the EP succeeds in leaving you wanting more-the ultimate accomplishment for a band this young and this talented.
ThreadSpinner unveils Night Chorus this Friday, October 2, during an extra special CD release party at Center Stage Theater (751 Paseo Nuevo) at 8 p.m. For tickets and info, call 963-408 or visit threadspinner.net.
SOMETHING NEW: Also on the horizon, Santa Barbara's inaugural New Noise festival, which kicks off next Thursday, October 8, with a guaranteed-to-be-great performance by Michael Franti and Spearhead at the Arlington Theatre (1317 State St.) at 8 p.m. Following the show, prepare yourself for a weekend of live music, film, and conferences geared at the up-and-coming music makers, producers, and promoters of our generation. For the tech-savvy (and tech curious), Pandora radio founder Tim Westergren delivers the fest's keynote address on Friday, October 9, at 3 p.m. at the Canary Hotel (31 W. Carrillo St.), and on Saturday, October 10, at 7 p.m. the Arlington hosts the world premiere of the film Jack Johnson: En Concert. Other conference topics of the weekend include greening large-scale concert venues, licensing your music to television and film, branding your band, the death of the record deal, and many, many more.
For those more interested in appreciating music than making it, be sure to check out some of the weekend's killer offerings in live tunes, which will take place throughout downtown S.B. on Friday and Saturday nights. For starters, hip-hop genius and self-proclaimed sexy beast Har Mar Superstar headlines Sandbar (514 State St.) on Friday, October 9, at 8 p.m. Also that night, BMI showcases New Wave and synth pop up-and-comers Avi Buffalo, Cheetahsaurus, Mini Mansions, Actress, and The Airlines at Whiskey Richard's (435 State St.) at 8 p.m. Come Saturday, SOhO (1221 State St.) hosts psych collective Edward Sharpe & The Magnetic Zeros and The Growlers at 8 p.m. And The Indy and KCSB team up to present oso, Le Petit Protest, Pilar D-az, Franklin for Short , and Raining and OK at Velvet Jones (423 State St.) at 8 p.m. For more information on shows, passes, and panels, visit newnoisesb.com.
ROCK FOR A CAUSE: And if you're looking for feel-good music of the most genuine variety, be sure to turn out for this Sunday's annual SB CAN Action Fund's (sbcan.org) Fall Harvest Picnic at Elings Park (1298 Las Positas Rd.), featuring live tunes from Toad the Wet Sprocket's frontman Glen Phillips and inspirational words from social activist/author Tom Hayden. The event gets started at 11:30 a.m. on Sunday, October 4, with all proceeds benefiting SB CAN, a countywide nonprof that promotes social justice and environmentally conscious policy making. For more on the picnic and the group, visit sbcan.org.