Living
New Details on Gunman
Search Expands to Hollister and Turnpike Roads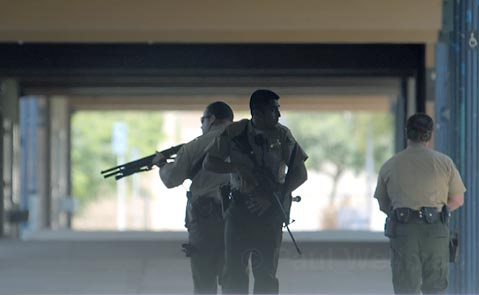 Details are emerging about the lockdown situation at San Marcos High School and nearby El Camino Elementary School. According to the Santa Barbara County Sheriff's Department, authorities are now searching the Hollister Avenue and Turnpike Road area for a "juvenile with a handgun" and, as a result, the schools remain under high alert.
In a statement to the media, the Sheriff's Department said that the suspect is believed to have taken part in a scuffle earlier today at the Turnpike Shopping Center with several other people before fleeing the scene. The suspect is being described as a Hispanic male between 16-19 years old wearing a long white shirt and dark pants with yellow boxer undershorts; clean shaven, with medium-length buzz-cut hair. As of this time, no one has been taken into custody.
Update: 1:45 p.m.:
San Marcos families have received two robo-calls from the school explaining the continued lockdown, and the school closure which began approximately 10:15 a.m. Barbara Keyani, coordinator of Administrative Services and Communications for the Santa Barbara School District, said the lockdown will be lifted once the Sheriff's Department determines the preventive measures are unnecessary.
Update: 3:52 p.m.:
San Marcos High School has been opened and students are returning home. Vons' parking lot will be used for student pickup and MTD and school buses are also picking up at the usual spots.
It is reported that students, who congregated in the gym, are not allowed to return to classrooms to reclaim their materials.