Arts & Entertainment
Thao Nguyen Gets Up Close and Personal
San Fran Songstress Heads to SOhO with The Get Down Stay Down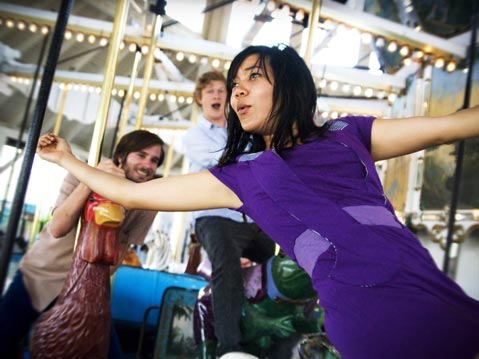 It's a furious onslaught of wails, claps, and stomps that make up the opening minute of Thao with The Get Down Stay Down's sophomore release, a barely there snippet of music that's part chant, part kiss-off, and all hopeless fury. "That track was kind of the first of resignation and frustration," explained the band's lead singer, Thao Nguyen. "That was pretty much what this record is. I happened to be pissed off that day and there was a frenzy. : Then, when we were in the studio, we wanted it to sound almost like a dirge, a lament that turned into this explosion. From there, it just kind of made sense that it would start the record."
For the trio's latest, the aptly titled Know Better Learn Faster, Nguyen and her bandmates (guitarist Adam Thompson and drummer Willis Thompson) readily explore some darker territory, but the result is far from somber. Like their major-label debut, 2008's folk pop-filled We Brave Bee Stings and All, the new record capitalizes on a mix of upbeat instrumentation and introspective lyrics. This time, though, it's just a little bit tougher to swallow. On the brink of a painful breakup and motivated by the pressure to crank out a new album, Nguyen birthed Know Better as a raw, emotionally present mix of hurt, heartbreak, and frustration that you can dance to, and the result is nothing short of breathtaking.
This Thursday, Thao with The Get Down Stay Down launch their headlining tour in support of Know Better Learn Faster (out October 13 on Kill Rock Stars) at SOhO. For Nguyen, the tour also marks the first time she'll be sharing the material live and in person. "I would typically prefer to keep a show really high-energy with high-energy songs," she explained. "Just kind of make it like a punch and then go. And I think that people who show up are sort of expecting that experience. I can only hope with this record that people listen to the whole thing and if they're into it they'll be willing to go with us wherever we might want to go. It's important for me to play these songs live. I think it will be a challenge. This whole record is obviously very personal, but those [slower] songs in particular : I want them to have their time, as well."
In addition to the record's emotional shift, Know Better boasts guest vocals, instrumentals, and even whistles from some of indie rock's heaviest hitters, thanks in no small part to the album's producer Tucker Martine (The Decemberists, Sufjan Stevens).
"Tucker and his amazing associations and relationships with musicians in Portland is always so incredible to draw upon," said Nguyen. "For the horn parts, we'd throw the idea out into the atmosphere and hope Tucker can find someone to perform : like Andrew Bird. We didn't know him beforehand, but we're great big fans of his. I never really knew this could happen, but Tucker came into the studio one day and said, 'Well, Andrew Bird's in town and I sent him this track, so he said he might come in and do something.' And we're like, 'What the fuck?' He shows up and starts whistling and playing these amazing violin swells. : We were in awe."
In addition to Bird, the band called upon longtime friends Merrill Garbus and Laura Veirs, as well as Blitzen Trapper frontman Eric Earley, The Decemberists' Jenny Conlee, and Los Lobos' Steve Berlin to lend their talent to the record, making for a collection of songs that's about as lush as they come.
"You know what's funny, we've been just a three-o for a while now," Nguyen laughed. "Thankfully, our main support for this tour is the Portland Cello Project, so we're gonna have them guest on a lot of songs. We are trying to stay cognizant of the fact that there are a lot of sounds on that record, and we're trying to recreate as many as we can within our limitations."
For Nguyen, those limitations also stretch into the touring itself. For their debut, Thao with The Get Down Stay Down transformed themselves into a veritable touring machine, a feat that the singer can't imagine attempting again. "I think if we recreated what we did last year, I would not be alive," she half-joked. "We said we wanted to be on tour all year. I, for one, didn't know what that meant. I think that it totally kicked my ass. But in hindsight, I think it was the best thing for us because we developed what our sound is now and we honed ourselves in that sense. It definitely made me more clear on what I wanted this record to sound like. We have more energy as a live band than we thought we would, and I definitely wanted to convey that. This is definitely a more energetic, intense record than the last one because of that."
4•1•1
Thao with The Get Down Stay Down play SOhO with openers the Portland Cello Project Thursday, October 15, at 9 p.m. Call 962-7776 or visit clubmercy.com for details and ticket info.