Theater
Alpha Resource Center Presents Zombies from Outer Space
Performance Takes Place Saturday, October 10, as part of the Alpha Fest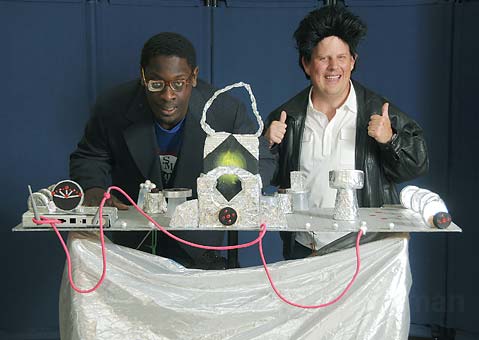 It's not every day you can catch an original musical written, composed, directed, and performed by Santa Barbara artists. Then again, there's nothing ordinary about Alpha Resource Center of Santa Barbara, a day facility for adults with developmental disabilities. This weekend, 25 dedicated actors from Alpha's performing arts team present Zombies from Outer Space, a unique production that's been more than six months in the making.
A few weeks ago, the team invited me to sit in on a rehearsal in one of the center's multipurpose rooms. I arrived during a musical number, and trying to be as unobtrusive as possible, tiptoed across the stage past what appeared to be a spaceship console to an empty chair. When I looked up, almost every face in the room was turned in my direction. A few of the actors grinned and waved. Beside me, Julie Badella, manager of Alpha's Adult Services, soldiered on at her electronic keyboard, finishing up a rendition of Louis Armstrong's "Wonderful World." "They're really excited whenever we have visitors," Badella whispered as the actors took their places for the next scene.
In addition to its adult program, Alpha serves children and teens and their families, does advocacy work, runs the Alpha Thrift Stores, and offers a range of related services. For years, Badella has worked with Alpha's adult clients to produce an annual play. A licensed music therapist, she's comfortable playing instruments as an accompanist and helping with singing and accents, but was thrilled when Gavin Roy, a well-known disc jockey in the area, joined the staff at Alpha and began writing original musicals for the group to perform. Roy no longer works for Alpha, but for the past five years he has returned to help with the annual show. "I always start by meeting with the cast and going over their thoughts and ideas for the play," he explained. Zombies from Outer Space is the result of this year's joint interest in horror movies and in the 1950s. Roy has fused those themes, incorporating popular songs like "Time Warp" from the Rocky Horror Picture Show and numbers from Little Shop of Horrors. Because so many of the actors are also '80s fans, Michael Jackson's "Thriller" and David Bowie's "Space Oddity" (aka "Ground Control to Major Tom") have also found their way into the story.
It's clear from the way they rehearse that acting is a passion for many members of the group, some of whom have been taking part in Alpha productions for as long as 30 years. There is spontaneous singing, clapping, and dancing in the wings during many of the musical numbers, and even some mouthing of the lines. But on stage, there is focus. "Major Tom" stands alone in cargo shorts and a polo shirt, sweat bands on his wrists, his fingers laden with oversized silver rings. Badella sings harmony to his melody, and the room falls silent, mesmerized by the song.
When it's time for a break, the actors gather round for a chat. Everyone wants to shake my hand, so we spend a few minutes on introductions before I start asking questions. "What do you like best about acting?" I ask, and get 25 different answers at once, most of them emphatic and animated, although I can't make out one from the other. Badella helps moderate. "Hearing people applaud," one actor says. "Why do you like that?" Badella encourages. "It lets you know you did a good job," he offers. "It makes you feel good inside," another actor adds. "It makes you proud." Everyone agrees with Bev and Mark that "Thriller" is one of the show's best numbers because of the dance that accompanies it, but Skipper says his favorite scene is the one where he gets to come in and shoot everyone.
When I stand up to leave, everyone applauds me as if I'm the one who's just given a performance. They all wave as I make my way out of the room. Back in her office after rehearsal, Badella explains, "We want the audience to see that people with developmental challenges can do a whole lot. Sometimes we're seen as needing something from the community, but actually, we have a lot to offer the community, too."
4•1•1
Alpha Resource Center's annual Alpha Fest, including an arts and crafts fair and silent auction, takes place this Saturday, October 10, from 1-5 p.m. at the Marjorie Luke Theatre (721 E. Cota St.). Zombies from Outer Space begins onstage at 2 p.m. To learn more, visit alphasb.org or call 683-2145.