News
Attack of the Antennas
Proposed Wireless Antennas-Some Near Schools and Homes-Have Citizens in Uproar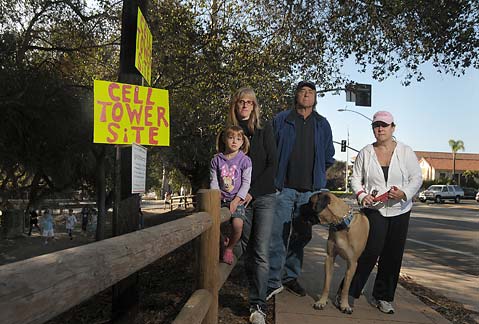 The rise of smartphones is bringing with it an onslaught of antennas, as more than 100 wireless data-supporting devices are being proposed throughout southern Santa Barbara County, from the sandy streets of Carpinteria to the student 'hoods in Isla Vista. But since the small devices would mostly be installed on existing utility poles and because the company installing them, San Jose's NextG Networks, is considered a public utility by the state, there's very little public review required and limited means of appealing them once approved. That seemingly secretive ease-
fueled by fears that the antennas might emit a dangerous form of electromagnetic field (EMF) radiation-is riling some residents, though it's likely that only a fraction of people who live, work, or play near a proposed antenna have any idea about it.
Particularly vocal are parents of children at Montecito Union School, where a letter-writing campaign is in full swing to oppose a new antenna across the street from the playground. "We feel it is wrong and insidious to be able to do this," said Sarah Wilson, a neighbor of the school whose four-year-old will be attending next year. "We all want cell phones and good signals, but there are safer places they can put them rather than in areas densely populated by children. : Until the scientists, who have been questioning levels of EMF since 1996, say, 'No problem, we think this is completely safe,' then we feel it's wrong to put our children's health at risk."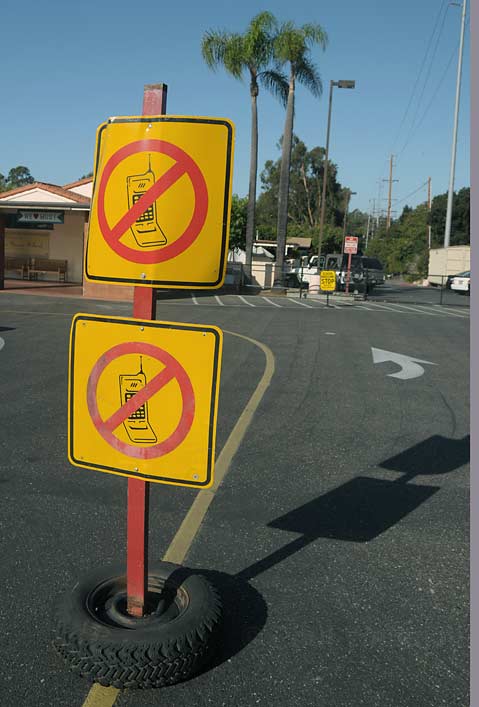 Then there's a neighborhood in eastern Goleta, where one man woke up to find an antenna proposed for a pole a mere 25 feet from his bedroom on Los Verdes Drive. Yuri Zelez, a family therapist by day, spent last Saturday gathering more than 35 signatures in opposition and spoke out against it on Tuesday before the County Board of Supervisors. "We're trying everything we can to stop this from happening," said Zelez, who was told by county staffers that the antenna was a "done deal" and that it would be installed within three weeks. "I'm not against technology, but why put it in the residential neighborhood? We're talking about constant contact-I am going to be bombarded by this 24 hours a day, seven days a week."
Because of the uproar, the Board of Supervisors will be discussing the 39 antennas proposed for the county in a public forum on October 20. But in the cities of Santa Barbara (70 antennas proposed, though most sent back with a request that the control box be put underground), Carpinteria (seven proposed), and Goleta (19 proposed and "pretty much in the bag" according to one planning official), the antennas march forward with citizens mostly unaware. Not that there is much that could be done anyway. NextG's public utility status grants numerous exemptions because its technology is deemed an "essential service," and the technology is governed by the Federal Communications Commission, the sole governmental entity tasked with setting public health and safety standards for such devices. So despite EMF concerns, official appeals cannot be based on health, only on aesthetics and evidence that further coverage is unwarranted.
"We can't go beyond FCC regulations. We're preempted in that regard," said county planner Dave Ward, who's helped process these applications and requested that NextG at least show its technology does comply. "As you can imagine, it's frustrating for the public to hear that the level of review is focused on aesthetics. I don't think we've been able to satisfactorily satisfy their concerns." Although the technology and placement of antennas on existing utility poles is new, Ward says they're covered under the county's wireless telecommunications ordinance. "It's not something we've seen in the past, but it does fit within our ordinance," said Ward, who explained that county policy requires a sign marking each proposed antenna and that residents within 300 feet of a site be notified.
"People can go out there and say EMF doesn't hurt, but we have firsthand experience which shows that, in all likelihood, it does. We don't want to go down that road again."
Being handcuffed by FCC regulations doesn't sit well with Montecito's Cindy Feinberg, whose son is at Montecito Union and whose daughter is ready to start next year. Years ago, Feinberg fought to have electrical wires moved away from the campus after high EMF levels allegedly triggered a "cancer cluster" at the school in which six kids got lymphoma or leukemia from 1981 to 1988, a rate five times more than normal. "It's a sore issue with us," said Feinberg. "People can go out there and say EMF doesn't hurt, but we have firsthand experience which shows that, in all likelihood, it does. We don't want to go down that road again." Feinberg and Wilson believe that the technological advances have outpaced the ability of the FCC to safely regulate them, and say standards are stricter in Europe and Australia. "I'm worried that it's going to be like cigarette smoking in the '50s and '60s, when everyone thought it was fine and that they wouldn't let us do it if it was bad for us," said Wilson. "It's going to be the cigarette smoking of the 21st century." Echoed Feinberg, "It's like the tobacco industry all over again. We're just basically being guinea pigs."
NextG's spokesperson Sharon James was emailed questions on Monday and had not replied as of Wednesday's press deadline despite repeated inquiries. In general, NextG uses the two- to three-foot-tall, omni-directional "whip" antennas and accompanying control boxes-referred to collectively as "nodes"-to establish wireless networks in a selected community and then leases the coverage to big cellular companies such as AT&T. The company has successfully created similar networks in other parts of the country, and James has repeatedly cited San Diego as a successful California community network in her meetings with county planners.
But one place where NextG hasn't been successful is Long Island, New York, where a wave of outrage occurred when the company proposed 170 antennas throughout the 22 communities that make up the Town of Hempstead. According to a September 10 story in Newsday, the community of Merrick filed a $100-million lawsuit against the company because property values would be driven down by the perceived health risk. NextG then ceased negotiations with the town government, explaining to one resident that the money they would have used to re-site some of the controversial antennas now had to be spent on legal defense.
The property value argument is also starting to be mentioned in Montecito, home to some of the country's priciest real estate. "It may affect the price of your house-it does in Europe," said Wilson, who speaks with a British accent. "Certainly, you don't buy a house with an antenna overlooking your yard."
Whatever the opposition, there may be some hope. About two years ago, Montecito resident Don Miller successfully led a letter-writing charge to block the construction of a cellular tower near Cold Spring School. "We made so much of a fuss that they just dropped it," recalled Miller. But he's acutely aware that the fight is different this time. "NextG is listed as a public utility company, so the review process is very limited," he explained. "It's almost like the electric company coming in and stringing a new wire. It's scary."