Theater
Lit Moon Presents Its World Theatre Festival at Center Stage
Annual Weekend of Theater Included Works from the United States and the Czech Republic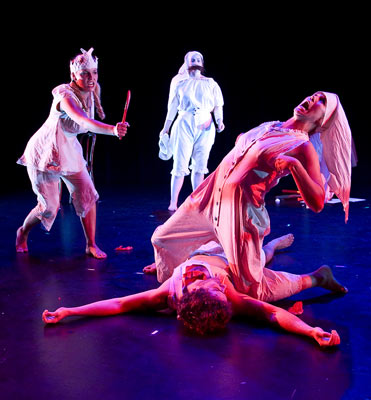 The Tragedy of Tragedies, or the Life and Death of Tom Thumb the Great, Tuesday, October 13
With this great new show Lit Moon steps into the world that Shakespeare made, the boisterous scene of the London theater world circa 1730. Henry Fielding, best known for his novel Tom Jones, was once one of the most popular playwrights in England, and The Tragedy of Tragedies represents his second stage version of the popular legend of Tom Thumb, a tiny man of great accomplishments who swaggers through the court of King Arthur, slaying dragons and seducing queens and princesses, all from a height of no more than a few inches. In Lit Moon's version of this satire, which was aimed at the inflated language and theatrical cliches of then-current productions of tragedy, the comedy of scale opens onto vistas of absurdity that finally lead to savagery and death. If last year's The Wedding (also in the festival this year, see below) was Lit Moon's pop rock musical, then The Tragedy of Tragedies might be said to be Lit Moon's foray into punk, the deliberately provocative, stripped-down style of music that crashed the classic rock party at the end of the 1970s.
Peter John Duda has two of his best roles in this show as King Arthur and his alter-ego, the dreadful Lord Grizzle. Duda sings and recites some of the evening's most memorable speeches, especially Arthur's extraordinary denunciation of simile. As Queen Dollallolla, Sarah Halford performs the show's harshest, most cathartic song, a screamed soliloquy that would make Courtney Love sit up and take notice.
James Connolly adds some of his most inventive work to date in the form of onstage musical devices ranging from plastic tubes and balls for percussion to a tiny toy piano that falls over. His ingenious playing with the idea of smallness leads to some of the night's biggest laughs.
Overall The Tragedy of Tragedies is terrifically satirical without necessarily being very funny-or wanting to be. Sure, there are running jokes, including one in which the actresses bicker over who is Helen Mirren (Lit Moon code for the missing Victoria Finlayson?), but by the time the dreadful final act arrives, with its reams of red cloth signifying blood, something too awful for laughs has made its presence known. The Tragedy of Tragedies is another triumph for our city's most consistently innovative and daring theatrical organization. -Charles Donelan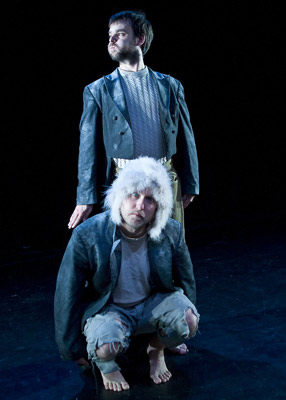 Polaris, Wednesday, October 14
From their first entrance, when Jan Benes-McGadie and Vojta Svejda come onstage straining to pull an invisible sled and letting off small puffs of talcum powder condensation, the tremendous attention to detail and imagination that has gone into their show Polaris is apparent. A two-man show from the Adriatic Presents theater of Prague, Polaris is a nearly wordless hour-long physical drama that draws the audience into a vivid and seamless dream of polar exploration. The two performers are virtuosi of what dancers call "traveling"-i.e., finding different, distinctive and significant ways to cross the stage. The talc they shed as stage-vapor eventually coats the floor, the better for Benes-McGadie and Svejda to slide, waddle, skip, slither, and stalk through the space. In several scenes simple traveling motifs conjure entire settings, as when the pair side-stepped synchronously to indicate riding together on a train, or when they slid and slithered on palms and elbows dragging bent knees behind them and bellowing like sea lions.
In Polaris, it seems as though every aspect of arctic life is touched upon, and often in alternating, complementary perspectives, as when the opening segment involving two human explorers huddling in a shelter was inter-cut with deft shots of the explorer's huskies shivering outside. From a standpoint of sheer technique, this is some of the most impressive acting you will see anywhere. For instance, they can move so quickly and quietly during the blackouts that at times it's hard to accept that they could have changed position so drastically in such a short amount of time without anyone noticing. Although the animal sequences are in some ways the most memorable, they are by no means the most significant of the show. Through deft characterization and fascinating lighting and performance techniques designed to mimic other media such as early film, Polaris embeds its explorers amid a world of poignant reminders of past ambition and archaic notions of fame and glory. -Charles Donelan
Flush, Thursday, October 15
Billed as a two-man show, Flush actually involved a larger cast, since the audience was drawn into the action, both onstage and off, at several points in the evening. This is a very demanding work, both for the actors — James Donlon and Howard Lotker — and for the spectator. It explores difficult subject matter, specifically the use of torture for interrogation, and persistently erases the fourth wall separating the audience from the actors onstage. On Thursday night three audience members were brought onstage as representatives of the medical, legal, and educational professions to literally blow the whistle on improper treatment of the interrogated subject, and later on, another audience member was recruited as an apprentice interrogator.
Donlon and Lotker handled the delicate task of arming and then defusing this explosive topic with great compassion and strict attention to emotional detail. In a question and answer session following the show they revealed its origins and agenda, putting the strenuous experience into a larger context of theater and activism. Flush, a world premiere, was one of the most memorable and important shows to be seen here this season. -Charles Donelan
Albert's Fear, Saturday, October 17
Albert's Fear is a one-man show directed by James Donlon that blends mime and comedy in a story anyone can identify with — the story of facing one's fears. Vojta Svejda, the performer and man behind the concept, plays Albert: a shy, likable boy who jumps at the sight of a spider in the bathroom and is relentlessly bullied. Watching an adult actor play a ten-year-old boy is captivating. When Albert is scared, the audience is too, and when Albert acquires his tough persona, the audience recognizes the feeling. From nightmares to hospitals to bouncing bus rides, Albert's scenes of fear are created out of thin air in seconds, without props, like a magic show with a plot line. In less than an hour, Albert's Fear conjures the years filled with courage and humor and fear that swallow up a child and spit him out a man. -Carolina Beltran
The Wedding, Saturday, October 17
A young woman dreams of the perfect wedding. As a child, she may have played dress-up with her best friend, trading off the roles of the bride and groom, or dressed up her Ken and Barbie dolls, using them to act out her own wedding-imagining just what her groom would look like and what he would say. Yet, as much as we young women do imagine ourselves getting married, having babies, and living happily ever after, we also wonder about the falling in love part. Ultimately, we wonder what marriage is supposed to be about. In Lit Moon's The Wedding, the Bachelor, played by Stanley Hoffman, is spotted by three women: Victoria Finlayson, Sarah Halford, and Kate Paulsen. Seeing as he is the only eligible bachelor in their path, they all decide to pursue him. The female actors represent each period in a woman's life, from girlhood to young adulthood to womanhood, and they go through a series of experiences, including going out to dinner, dancing, and having a baby. The play reflects on the pressures and fear of rejection that a woman goes through in the course of attempting to get the attention of the perfect man for the perfect wedding. Through catchy original pop songs, symbolism, movement, and dialogue, The Wedding paints a picture of love and marriage as fraught with anxiety as it is funny. -Cecilia Gonzalez