Columns
The Isla Vista Food Revolution
Do You Know What You're Eating?
Any day of the week, it's easy to find a news story about the problems caused by the way we eat. Many Americans eat too much, and don't pay enough attention to what they're eating. Childhood obesity, diabetes, and other health issues have become common problems. As a recently reformed fast-food junkie, I'm not pointing any fingers. These are just the facts.
There are people everywhere trying to lead others away from excess and toward healthier foods. Filmmaker Morgan Spurlock did a great job of bringing the issue to the forefront with the movie Supersize Me. Once you saw it you couldn't look at fast food the same way.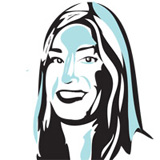 And I.V. is no exception. There are quite a few people involved in various food movements. There are the people over at the Isla Vista Food Co-op, and the organic food growers at Estero Park Community Gardens, to name two groups. There is also Jay Ferro, the owner of Silvergreens and the founder of the Nutricate Corporation, who is spearheading his own dining revolution.
If you haven't been to Silvergreens (there is one in I.V. and one in downtown Santa Barbara) you may be saying Nutri what? Here's the deal: At each Silvergreens you receive a Nutricate receipt with your regular receipt. On it you will find nutritional information with columns that lay out the calorie, fiber, fat, and protein in each of the items you ordered. For example, last week I had the chicken fettucine Alfredo with crispy chicken. It had 469 calories. If I had ordered the fettucine with grilled chicken instead, my meal would have had 399 calories. The parmesan crisps that came with the fettucine had 152 calories. The whole meal was 514 calories. The receipt even told me what percentage this would be from a 2000, and from a 2500, calorie diet. And, let me add, it was tasty.
You may be wondering why I categorize this a food movement. Well, after eating at Silvergreens for awhile I started to get addicted to knowing what I was eating. I enjoyed substituting one thing for another to get a great meal with a smaller calorie intake. If you say no to the cheese or mayo, your Nutricate receipt will reflect these deletions. Other restaurants have different ways of making patrons aware of calorie intake. Some restaurants have signs that break down nutritional information. At International House of Pancakes the nutritional information is right on the menu. With one quick glance I saw that some of the omelette combos had about 1000 calories, while the French toast combo had about 700. I opted for the French toast combo. What I didn't get was a breakdown that would tell me the count if I substituted one thing for another, say fresh fruit for hash browns. I found that frustrating. But it was the day I spent 10 minutes in my car outside Starbucks trying to search the Web for information on the caloric intake of a mocha that I knew I was hooked on the knowing.
The motto on the Nutricate Web site says, "Helping society to eat healthier one person at a time." The idea is that your Nutricate receipt reflects your own choices, for good or ill. The word Nutricate itself is a play on words: It means to nutritionally educate.
The founder of Nutricate got his start the way many others have. He graduated from UCSB in the mid 1990s realizing that he wanted to provide something that I.V. needed, in this case a restaurant with healthier food choices. But this wasn't all. He also patented the Nutricate concept.
The way Nutricate works is that a receipt-intercept computer (RIC) is hooked up to a regular point-of-sale (POS) system. The RIC is a little white box that fits under the receipt printer. Inside this box is the hardware that converts a customer's order into a nutritional breakdown. Restaurants can decide which four nutritional facts will print out on the receipt. For example, a restaurant could show the calories, total fat, carbohydrates, and protein in a meal; or it could show fiber content instead of carbohydrates. The establishment can also include such things as quizzes or coupons on the receipt. Nutricate receipts being used not only at restaurants, but at some hospitals and schools.
Of course you're going to ask why some restaurants, especially fast food types, would want to use this system. The McDonald's on Fairview Avenue tested the Nutricate receipt. My husband and I tried it out, several times, and we decided that the Egg McMuffin meal provided more bang for fewer calories than another type of meal.
I'm not sure how Nutricate receipts would work for everybody. I only know about my own experience. I've found myself wondering about what I'm eating when I go places that don't display nutritional information. I can't pick up a muffin or a croissant without wondering what's in it. I actually didn't go to one of my favorite restaurants because I wouldn't know what was in the soup. Would I still eat it if I knew what was in it? Probably, but I always think it's better to know what I'm getting myself into.