Opinion
Henry Bergmann: Volleyball Legend Took His Own Life
1944-2009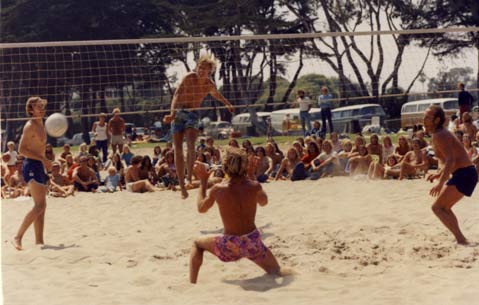 Like a sculptor pounding on a chisel or a painter swiping a bold stroke, Henry Bergmann was an artist when he touched a volleyball. He fashioned many masterpieces during a brief period in his life. They exist only in the memories of a few friends and fans who watched him perform from 1968 to 1973-a decade before the arrival of professionalism elevated another Santa Barbara athlete of similar stature and skill, Karch Kiraly, to worldwide recognition as a volleyball superstar.
Bergmann's artistry led to victory 62 percent of the time against the best players of his era: He won 15 of the 23 open tournaments he entered-including the Santa Barbara Open four times and Manhattan Beach twice-and he finished second the other eight times. You never would have heard Henry recite those figures.
"It had nothing to do with winning and losing," said John Bradley, a schoolmate of Bergmann, who graduated from Santa Barbara High in 1962. "He was reaching for some kind of magical goal, a state of perfection."
"He was completely in his own world," Larry Rundle, one of three players who benefited from partnering with Bergmann, told me several years ago. "He was unaware of our opponents. Without regard to the score or strategy, he would go up as if to say, 'I'm going to hit this one with the most beautiful swing you've ever seen.' He had as good an arm as any that ever played volleyball. He learned to put his whole body into a spike. On the follow through, it was like a 'V.'"
Despite his fluid power, people would continually challenge Bergmann by sending serves his way. "I couldn't understand it," Rundle said. "Teams would say, 'We're going to lay it on Henry until he cracks.' I never saw him crack."
But there were fissures between Bergmann and the world of hustle and bustle outside his sandy domain. Rundle said, "He was so quiet and so insecure." Bradley described him as "the kindest, most caring person I've ever known. He made wimpy jokes because he was too nice to be a good teaser. When we played poker, if he got ahead, he would find a way to lose."
An only child, the 6'1″ Bergmann was a loner by nature. Karch Kiraly once recalled watching Bergmann practice by himself on a windy day at East Beach: "He'd throw [the ball] up, hit it, go to the next net, throw it, hit it. : He'd go down eight courts, turn around, and go back." Bradley said, "Henry probably would have enjoyed volleyball more if there weren't any spectators." After winning five tournaments in 1971, Bergmann stopped showing up at most events, and he quit the sport for good in 1973, a year before the first commercially sponsored beach tournament took place.
Something happened to him during that time, Bradley said. It was the Vietnam War era, and Bergmann was taken in the draft. "He was really, really unlucky," Bradley said. "He was the nicest, most passive guy, and he was drafted into the Marines. He couldn't take it. He didn't last. And when he came back home, he wasn't the same."
There also were drugs in his past-he was known to take doses of "uppers" to get through the grueling days of volleyball from dawn to dusk and to help him cope with his anxieties-but whether they affected him later is a matter of speculation. It's just that Bergmann faded away in the second half of his life. He was shuttered in his family home except when he emerged to do odd jobs. He acknowledged acquaintances on the street but rarely engaged in more than a glance. He outlived his parents and was very much alone when he died on October 5, by his own hand, shooting himself with a .22 caliber rifle. He was 65.
"Henry didn't look good the last two or three years," said Rich Riffero, another East Beach volleyball thumper from the '60s. "It was sad. People don't know who he was."
Henry Bergmann missed out on the fame and fortune achieved in later years by Santa Barbara beach volleyball legends Kiraly and Todd Rogers. There were no Olympics and no million-dollar purses for him to pursue, and it's questionable whether he would have wanted to pursue them. But people ought to know he was a beautiful athlete whose pursuit of perfection created priceless, if fleeting, works of art.