Theater
The Lieutenant of Inishmore at Center Stage
McDonagh's Dark Comedy About the IRA Connects
The Lieutenant of Inishmore may take up a scant 85 minutes, but it packs in an abundance of blood and gore, along with more belly laughs than anything else to hit a Santa Barbara stage this season. Not for everyone, and definitely not for children, this Lieutenant nevertheless demands to be seen by fans of state-of-the-art stage acting and rapid-fire dark comedy. With the aid of dialect coach Meredith McMinn, director Maurie Lord has pulled off a low-budget coup by producing an Irish play with a full range of very successful and well-differentiated accents. The fact that in several instances these accents belong to homicidal psychopaths should in no way detract from the achievement.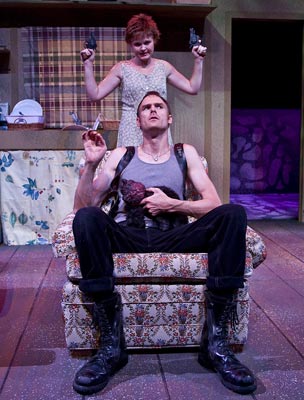 Exhibit A in The Lieutenant of Inishmore's pageant of nut cases is Padraic, played by Joe Jordan. Padraic incarnates the hyper-hostile attitude of Irish Republican Army splinter factions. No torture tactic lies beyond his scope, and even considering the love he harbors for his pet cat, Wee Thomas, one could still write him off as beyond the reach of human redemption. But in the universe of playwright Martin McDonagh, there's plenty of room for a man like Padraic to grow into his considerable potential, not only for mayhem, but also for love. Padraic's father, Donny (Tom Hinshaw), and his teenage neighbor, Davey (Josh Jenkins), may fear his vengeance, but Davey's sister, Mairead (Rebecca Ridenour), finds Padraic attractive and gets the chance to let him know. Ridenour does a splendid job with Mairead's accent and her hair-trigger temper, which never strays far from the surface.
This show could not work without a solid ensemble, and David Brainard as Christy, Ted Harmand as Joey, and Bill Egan as Brendan turn in excellent performances as fellow IRA paramilitary types who may have staged the death of Wee Thomas as an excuse to lure Padraic back to Inishmore. The night's most delirious scene comes early, when Padraic is found torturing a small-time drug dealer, James, who is played by Brian Harwell. Their scene has a sped-up, sparks-flying intensity that's hilarious and deeply frightening. Harwell's performance gives Jordan just the right kind of resistance to push off of, and his dazzling ascent into the wild upper atmosphere of Padraic's obsession truly is something else.