News
Thousands Turn Out for Threatened Sports Programs
UCSB Exercise and Sports Program Defenders Get Broad Support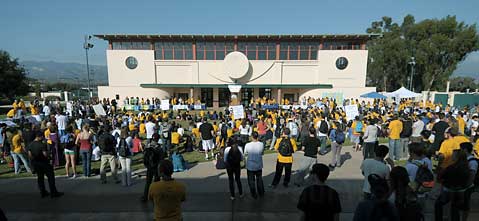 Thousands of students gathered outside of the UCSB recreation center on November 20 to oppose the planned termination of the university's Exercise and Sports Studies program. In October, the Academic Senate voted to terminate the program at the end of the Spring 2010 academic year. The gathering featured speakers, raffle prizes, food from Silvergreens, and tables dedicated to each of the ESS classes and programs.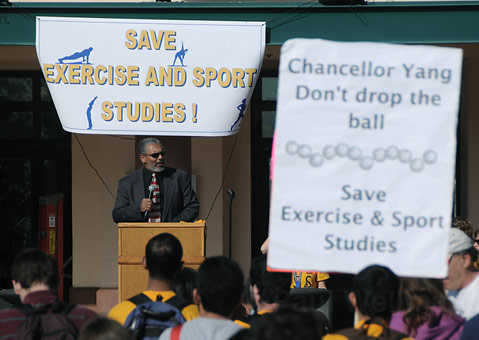 Beau Katz, a sports management minor and one of the media coordinators for the event, said that the rally was held to showcase all the benefits of the ESS programs and show student support. "The ESS classes are some of the most highly pragmatic courses," said Katz, "I've learned to do resumes, formal interviews, how to network, internships, and how to make contacts in professional sports."
Students attending the rally almost universally cited this pragmatism along with the affability of the faculty as the department's greatest strengths. "You get much more personal connections and you're out in the field," said Nelly Alcantar. "It gets you ready for life." Monica Lu said, "The teachers are able to explain complicated subjects easily. I came here for the program and it would break my heart if the program ended. I couldn't finish my minor." Some faculty echoed Lu's concerns. "Theory and training are what we pride ourselves on," said Jennifer Hamilton, who teaches Current Issues in Sports, "Students are not going to have applied training for the real world."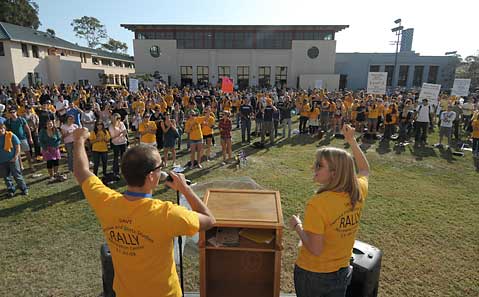 Student representatives have been meeting with UCSB Chancellor Henry Yang to discuss alternatives to closure, but according to Katz the administration has yet to commit to anything. In addition to student testimonials, the speakers included Olympic Volleyball Gold medalist and UCSB Alum Todd Rogers, San Marcos High School Athletic director Abe Jahadomy, former UCSB women's basketball coach Mark French, Deputy District Attorney (and candidate running for election as District Attorney) Joyce Dudley, Lecturer in Sports Management Al Ferrer, and Dean Melvin Oliver.
Dudley called the ESS program "the heart and soul of this university giving back to the community." Ferrer urged students to continue to lobby the administration, "You're paying for a Lexus, you deserve a Lexus. You need to give [the administration] the opportunity to show they are worthy leaders." Oliver read a statement from Chancellor Yang thanking student leaders for sharing their concerns with the administration. Oliver himself said that the administration was "not intent on ridding aspects of the program that help."