News
County to "Beef Up" Wireless Antenna Rules
Board of Supervisors Direct Staff to Examine Tightening Up Telecommunications Ordinance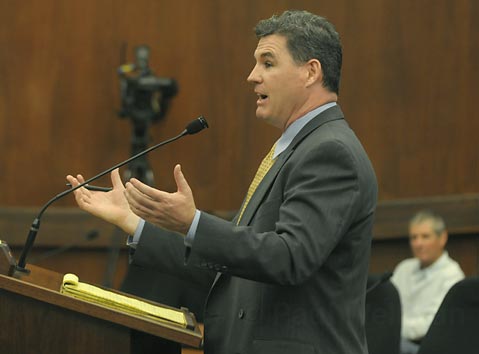 At Tuesday's Board of Supervisors hearing, dozens of Santa Barbara County citizens – from pro surfer Shaun Tomson and actor Billy Baldwin to realtors, parents, and everyday homeowners in Montecito, Goleta, and beyond – spoke out against the 39 new wireless antennas proposed for utility poles throughout residential areas of the South Coast, citing health concerns related to electromagnetic frequency (EMF) radiation and worries over decreased property values. The supervisors then voted unanimously in directing staff to examine ways to "beef up" the county's telecommunications ordinance, but the moratorium desired by 1st District Supervisor Salud Carbajal, whose constituency has been loudest on this issue, was not seconded and died on the floor.
The day's first speaker was Tomson, who recently adopted a son named Luke, a couple years after his teenage son died from an accident. "For me and my family, this is totally unacceptable. And for what-an improved cell signal?" he asked, later concluding, "Please let our baby sleep peacefully and safely in his crib." His concerns were echoed by nearly three dozen others who complained about the lack of scientific proof that these antennas were safe, frequently comparing them to claims of cigarette safety. Others worried that new antennas would lower the selling price of their homes and that their pole-top aesthetics – which one woman called "Christmas trees with laser swords pointing in the sky" – were not compatible with other design guidelines.
Speaking on behalf of NextG Networks – the San Jose company proposing the antennas that would carry signals for MetroPCS and possibly other carriers in the future – was attorney Paul O'Boyle. "I actually empathize regarding [concerns over EMF] – it's challenging, there's no doubt about it. Unfortunately, it's pre-empted by federal law," explained O'Boyle, referring to the law that impedes local jurisdictions from blocking cellular towers due to health concerns. He further explained that the county's own expert had tested the proposed devices and found that they emitted less than one percent of the allowable EMF. "This is exactly the solution you should be looking for," he argued. "This is what you should be pushing for, not against."
Other than the NextG representative, only one man spoke in favor of the antennas, explaining that the coverage in Montecito was "dreadful" and that a complete network is needed for businesses in the area. Carbajal then asked him if he would give his address to the county staff so that a wireless antenna could be placed outside of his home, and he replied, "It's the least I could do."
When it came time for the supervisors to speak, Carbajal advocated passionately for a moratorium, arguing, "This is fundamentally important and, when you consider all the things we spend money on, it's one of the most important investments we can make when it comes to our constituencies." However, his usual progressive-minded allies – namely 2nd District Supervisor Janet Wolf and 3rd District Supervisor Doreen Farr – did not come to his aid, worried that a moratorium would open the discussion too broadly or that a legal challenge would result in a worse outcome. Instead, all of the supervisors agreed to direct staff to examine options for "tightening up" the telecommunications ordinance.