News
Doctor Without Border
Into Sudan with UCSB Grad and Cottage Hospital ER Doc Jason Prystowsky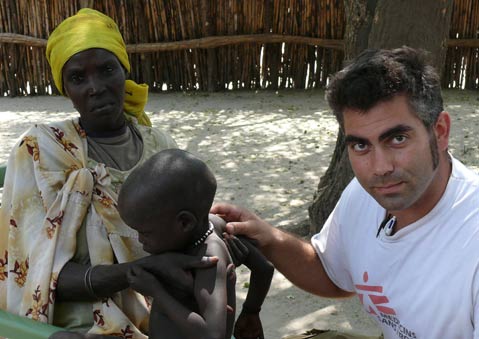 When it comes to organizations doing critical work in the worst parts of the world, it's hard to compete with Medecins Sans Frontires (MSF). Since its founding by French doctors and journalists in 1971, MSF – which translates to Doctors Without Borders – has dispatched thousands of medical teams into war zones, natural disaster areas, impoverished regions, and the like to care for the sick and wounded and save countless lives. One such doctor is Jason Prystowsky, a Danville, California native who graduated from UCSB in 1998 and recently traveled to the war torn hinterlands of Sudan for his rookie MSF mission.
After graduating from medical school at Northwestern in Chicago and doing his residency at Atlanta's Emory University, Prystowsky worked throughout 2007 in Cottage Hospital's emergency room – where he still does the occasional shift – and saved up money for his MSF journey by sleeping on people's couches. Then, for the better part of 2008 and into 2009, Prystowsky spent nine months in southern Sudan, sleeping in a mud hut, listening to the frequent sound of AK-47 fire, and treating everything from gunshot wounds and hemorrhaging mothers to kids dying from tetanus and all ages struggling with tuberculosis.
In anticipation of the simultaneous national screening of the documentary Living in Emergency – an up-close-and-personal look at MSF missions in the Congo and Liberia – Prystowsky spoke to The Independent last week in between night shifts at Loma Linda University Medical Center, where he works in the ER and teaches.
What made you decide to work for Doctors Without Borders?
It's why we go into the business. At its core, everyone who goes to medical school has a certain draw to Doctors Without Borders or organizations like Doctors Without Borders because it's a true blend of idealism and pragmatism : For me personally, graduating from UCSB, I knew I wanted to go into a medical career and serve the underserved, marginalized, vulnerable populations. I could have joined the Peace Corps and then gone to medical school, or go to medical school and join MSF, so that's what I did.
Were you prepared for what you encountered?
Yes and no. I worked for various organizations in other countries, and I completed four years of medical school and public health school and years of specialist training in emergency medicine. I was about as prepared as you can be. But until you've worked in a conflict zone or a post-conflict zone and worked under the various constraints – one of my mentors at MSF told me, "With MSF, you don't sign up for the job, you sign up for the constraints" – there's only so much you can really prepare for, only so much you can train for until you're there.
What was a typical day like?
It was absolute poverty, so on any given day, the challenges we faced ran the entire spectrum of medicine and public health. You never knew if you were going to have 10 AK-47 injuries coming in from an ethnic clash, or you could have a case of polio, or you could have two kids coming in under the age of one month with tetanus. You see all of these illnesses that you read about in medical school, but that we get a shot for and you don't think twice about. We think, "Tetanus, oh, that's what you get a shot for after you cut yourself surfing," but tetanus is the number one cause of death for kids under one month old in the world. In nine months, we had 30 to 40 kids with neonatal tetanus and only two survived. We saw a polio outbreak, we saw a lot of malnutrition : we saw lots of malaria, everyone had malaria. There were a lot of very complicated obstetrics – about one in 10 women are expected to die in childbirth : You don't think about the fact that, in other places in the world, being pregnant is a significant risk to life.
What were your living conditions like?
They were spartan, very modest. We had plenty to eat, but lived in a mud hut with a mosquito net and trunk to keep our stuff in. It wasn't the Ritz-Carlton. MSF strongly believes in proximity: You have to live close if not with the people you're serving. We were in a pretty rural part of south Sudan. It's one of the tough parts about developing world medicine, because a lot of the time the greatest needs are out in the rural parts of the country. It's hard to get out there, especially in a place like Sudan, which is the largest country in Africa, and south Sudan is larger than Texas, but there are 15 miles of paved roads. Everything you need has to be flown in. But the population we served was very good to us. Whenever there was a concern for security, they let us know what was going on.
Was your work welcomed?
Where I was in Sudan, the humanitarian space was very open and we were welcomed. There are a lot of places where that is not the case : where aid is looked upon with suspicion and there are places where aid workers are flat targeted. This is becoming one of the real challenges of humanitarian aid – sometimes the places where the need is greatest, the security can be the most concerning.
MSF sends out teams with very mixed nationalities. Does that make the organization more effective?
I like to think so. I'm a big fan of diversity : A lot of people from different backgrounds are able to look at problems from different angles. And it always makes for interesting conversation where you're having your warm beer around the kerosene lamp after a long day in the heat!
What do you know about Living in Emergency?
It's extraordinary. It hit really close to home for me when I saw it. It brought me to tears. There are some scenes in the movie where the discussions felt like they were coming right out of my journal and there were reflections right out of my letter writing to home. Some of the conversations that take place were verbatim word-for-word conversations we had six months prior. It's probably the most raw, naked, in-your-face portrayal of what life is like in the field – all the glory, all the tragedy, all of the hope, all of the beat-down exhaustion, all of the frustration : There is just this incredible feeling of both perseverance and utter frustration, and those conflicting feelings are real. We would address them on a day-to-day basis.
4•1•1
Get an inside look at Medecins Sans Frontires/Doctors Without Borders at the Arlington Theatre on Monday, December 14, 8 p.m., with the screening of the documentary Living in Emergency. A televised panel discussion will follow. For more info, see doctorswithoutborders.org.