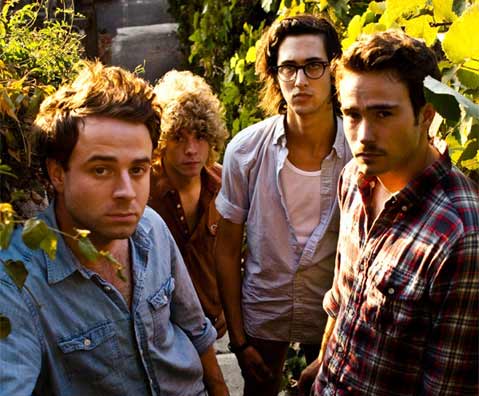 Emerging out of the ashes of alternative outfit Simon Dawes, current L.A. four-piece Dawes are fast becoming the carriers of the throwback folk rock torch. Together, Taylor Goldsmith, brother Griffin Goldsmith, Alex Casnoff, and Wylie Gelber and their debut release, North Hills, are drawing comparisons to greats like Crosby, Stills & Nash and Credence Clearwater Revival. As life-long SoCal dwellers, the quartet seems about as far removed from their Southern-rock-meets-country-twang sound as you can get. But, as leading man Taylor points out, maybe we've got our geography wrong.
"From my perspective, and I listened to that music growing up when I was living in L.A., people like Neil Young and Jackson Browne and Joni Mitchell and Crosby, Stills & Nash and The Byrds and Buffalo Springfield, every single one of them is an L.A. band," he pointed out. "And those are all the people we get compared to. I feel like country's definitely influenced that music, but I don't feel like that's necessarily Dawes; It's kind of L.A. in general."
Truthfully, it's no wonder why North Hills' sound is so entrenched in Los Angeles nostalgia. Alongside producer Jonathan Wilson, the band spent a chunk of their recording session holed up in one of the city's oldest musical hubs.
"Jonathan is an amazing and iconic producer. He's a musician in every way," recalled Taylor. "And he lives up in Laurel Canyon and started to develop this reputation for himself; he's sort of keeping that Laurel Canyon thing alive. While we were recording there he would just spring this stuff on us, like, 'Hey, my buddy from Wilco is going to come in and record today on a couple tracks if you're into it.' And of course we're like 'Okay.' And then we get there and Pat Sansone is the organ player and guitar player-and he's the nicest guy in the world-and he's recording on a little bit of our record."
In addition, Wilson has become somewhat of a musical liaison in his community, gathering rockers old, young, and everywhere in between for jam sessions, much like the Laurel Canyon of the '60s and '70s."We'd just sit down and have a good time and play music," Taylor recalled. "That was how we met Conor Oberst and Jenny Lewis and Benmont Tench from Tom Petty and the Heartbreakers, and Gerald Johnson from the Steve Miller Band; all these great musical legends."
Sonically, North Hills is ensconced in sleepy guitar lines and sunny harmonies. Tunes like "If You Let Me Be Your Anchor" and "Take Me Out of the City" immediately call to mind the slow, shimmering songs of Gram Parsons, while tracks like "Give Me Time" embrace a sound closer to The Byrds' twangy, building folk rock. It also stands to mention that, much like their predecessors, Dawes chose to record almost everything on the album in single takes.
"A lot of it was live," said Taylor. "We kind of just set up and went. Bass, drums, rhythm guitar, piano, and lead vocals were all in one take, and then we would just add a second guitar sometimes, or organ, or background vocals and maybe tambourine."
So how, then, do these vintage-inspired folkies fit in to the grand Los Angeles scene, which has been dubbed by many a musical wasteland since '80s hair bands hit the Sunset Strip?
"I think it's pretty special. I think there's some really awesome stuff coming from L.A.; bands like Delta Spirit," Taylor said. "Between all the jams and things that Jonathan has going, there's always people singing songs to each other. I met Gillian Welch and Dave Rollins and we got to play music. My buddy Jason [Boesel] played drums with Rilo Kiley and Conor [Oberst] and just made his own solo record and it's unbelievable. : It's probably my favorite record of the year. I'm really proud to come from L.A. right now. I think there's a lot of really, really special stuff happening here."
4•1•1
Dawes plays Muddy Waters Cafe with the Parson Redheads this Sunday, December 20, at 9 p.m. For tickets and info, call 966-9328 or visit clubmercy.com.