Opinion
KJEE Morning Show Signing Off
Locally Owned Station to Bring in Los Angeles-Based Syndication; Spencer Moves to The Vibe 103.3 FM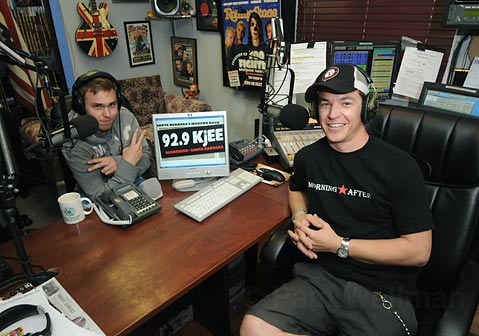 Longtime KJEE morning show personalities Spencer Fischer and his partner-in-crime Adam Lundquist are out as hosts of the popular program on 92.9 FM, and will be replaced come January 4 by a syndicated morning talk show out of Los Angeles.
Morning commuters will only have to go up the dial a few notches to find Fischer, however, as he'll be taking a seat behind the microphone in the studio of KVYB 103.3 FM as that station's new morning host. Lundquist's story is a little more somber, as he doesn't have another radio job lined up.
KJEE, meanwhile, will be replacing the popular morning show hosts with the syndicated Kevin and Bean Show, which is aired on KROQ in Los Angeles. That show, which is going on 20 years of existence, began syndication in several markets in May 2009.
Citing economic reasons, management at KJEE told Fischer and Lundquist of their plans to can the morning show on, ironically, Friday, November 13, just after Lundquist spent a good chunk of the show spitting in the face of all sorts of urban legends supposed to give people bad luck. KJEE's Stephen Meade, a former deejay himself who is now the station's sales manager, cited not only the economy, but the opportunity to bring in quality entertainment and "solidifying our connection with the modern rock world" as reasons behind the step to the popular KROQ show.
The two, who have been dropping hints on their show for weeks, had been flying as a tandem in the 6 to 10 a.m. slot for KJEE since the show's third member, Jenny Schlax, left in October 2008 after two-and-a-half years of the three working on the show together. With Fischer and Lundquist at the helm, KJEE's morning show managed to pull good ratings in Santa Barbara as one of the more popular programs. Most recently, the show received The Indy's 2009 "Best Of" Award for radio morning show. "We had a lot of momentum we didn't want to lose," Fischer said.
Lundquist was gone on a vacation for the last couple of days of the show's airing, while Fischer hosted Thursday's show and was not quiet about it being his last with KJEE. Friday will be a countdown of the year's best shows not hosted by the duo.
Even people not familiar with KJEE's morning show have probably encountered Fischer, who has been with the station for 12 years and is one of the few Santa Barbarans known primarily by his first name only. Not only is Spencer a staple at most any event catering to the twenty-something crowd where a deejay or emcee is needed in Santa Barbara, he also deejays weddings and does promotion work. His voice can also be heard in several local television and radio advertising spots. "Spencer's been a household name in Santa Barbara for a long time," said Bruce Pollock, the Central Coast market manager for Cumulus Media, which owns KVYB.
Lundquist, meanwhile, a recent graduate of UCSB, has been making a name for himself around town for his wacky interviews of celebrities, athletes, and politicians. He's asked former presidential candidate Hillary Clinton who she would "do" if her husband gave her a "freebie," basketball player Sam Cassell if he thought he looked more like E.T. or Gollum from Lord of the Rings, and Gov. Arnold Schwarzenegger if he had the option of kicking one past or present politician's ass, who would it be.
Hoping to stay in radio, Lundquist, 27, who plans to work the KJEE sound board for a while and hopes to continue doing sports reports, said he is "certainly willing to look at job offers." And Fischer said someone should hire him "That guy is going to give you 100 percent, whether it's mowing lawns or being a broadcaster," said Fischer. Lundquist started with the morning show covering sports, and said he loved interacting with people, whether it was hosting Sunday football at Sharkee's or Nite Moves on the beach. "It's always about the people," he said. "It was just a fun job."
While the show's current ratings weren't immediately available, both the morning show guys and Meade said the show got good marks. While it remains to be seen what the changes mean for KJEE, Fischer said it does sound as if more changes are on the way, as he was told the end of the morning show was only phase one. Without getting specific, Meade said the station is "constantly evolving," just like music and radio in general. Ever in search of the "next trend," Meade explained, "Are we going to be reactive or proactive? I hope that we'll be proactive."
For KJEE, which operates a signal of approximately 820 watts, the change means the loss of a live and local show during the morning drive time in exchange for a presumably cheaper, piped-in program. That leaves only K-LITE 101.7 FM, KRUZ 97.5 FM, and KTYD 99.9 FM as Santa Barbara-based stations with local and live-hosted morning programming. (While KVYB's signal hits S.B., it is based in Ventura County.) And to some, that's the biggest drawback of this budget-trimming measure. "They're not doing the community a service by having Kevin and Bean in the morning," explained one disgruntled KJEE morning show listener.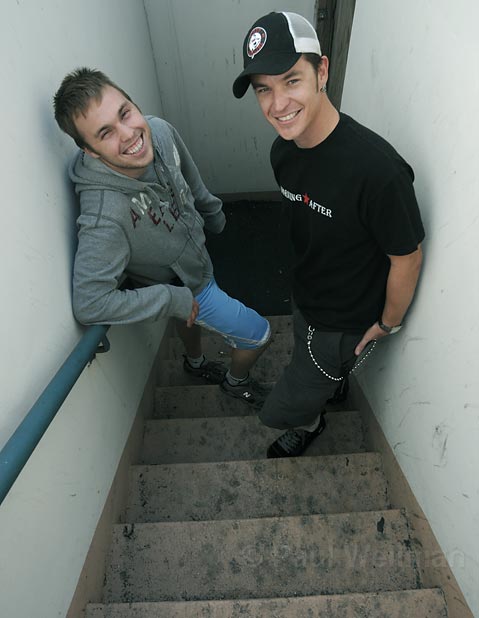 Lundquist agreed, saying, "We'll see how important people think local shows are." The locally produced show, explained Fischer, allowed the station to cover breaking news, from the devastating wildfires that have broken out in recent years to the gunman on the La Cumbre overpass that shut down Highway 101, during which KJEE had the most exciting and informative coverage available. That morning's program was peppered with updates from KEYT's ubiquitous John Palminteri and bolstered by Lundquist's lively reporting, as he'd ridden his bicycle to the scene and delivered dispatches as it unfolded.
But all that's not lost with this change, said Meade, explaining that the station will continue to have news coverage, traffic updates, and surf reports. "It's not like we're completely abandoning Santa Barbara by putting on a syndicated product," he said. He also pointed to KJEE's popular syndication of "Loveline" every night as a testament to how well Kevin and Bean might work out in the morning.
For Fischer, originally from Simi Valley, the move to KVYB will put him in a much larger market – his home market no less – at a time where many stations are abandoning live hosts, and all stations are operating on a skeleton crew. And he will be working at the largest radio station west of the Mississippi River. KVYB – owned by Cumulus Media, the second largest radio company in the United States and also the owner/operator of KRUZ 97.5 FM and Magic 106.3 FM – operates a signal of 105,000 watts, an amount grandfathered in before the Federal Communications Commission capped wattage at 100,000 for radio stations. The station had been on the lookout for a new morning host since the previous one left two months ago, said Pollock, explaining that timing was perfect for the transition. "I couldn't be more excited for Spencer to join 103.3," said Pollock.
The station falls under the rhythmic contemporary format, which means more hip-hop, urban pop, and rap for Fischer, a genre he's comfortable with due to his deejaying. It should also fit in with hot morning show topics a little better than KJEE's alternative rock format. "We sit there [at KJEE] and talk about Lady Gaga and Kanye West because they're in the news, but then we put on a song by the Foo Fighters," explained Fischer, who said his preset car radio stations now feature KJEE first with KVYB in the number two spot. "I'm excited. I'm truly fortunate."