News
Kaiser's Killer Sentenced
Cisneros Gets 56 to Life
After listening to the emotional testimony of his victim's father, Steven Cisneros — found guilty of first-degree murder by a Santa Barbara jury in November 2009 — was sentenced to 56-years-to-life in prison Monday morning, January 11. The jury came to a verdict in mid November after Cisneros admitted to the court that he stabbed Lawrence Kaiser to death in the bedroom they shared at the Lighthouse sober living home at 231 West Haley Street. Cisneros, who had a previous strike on his record from a 2003 felony assault in Ventura County, claimed the December 11, 2008 stabbing was self-defense, but evidence presented by the prosecution showed otherwise.
Because the murder was considered Cisneros's second strike, his sentence was more than doubled, to the 56-years-to-life sentence he received.
The courtroom was somber and virtually empty Monday morning when Dr. Richard Kaiser, the father of the victim, addressed Cisneros. He first thanked the Santa Barbara court and district attorney for making sure "justice was served in every sense of the word." He then tearfully stated that he would miss his son, who was the last of his children and that, before his son was brutally stabbed, he had hoped that he would have grandchildren someday. "I hope [Cisneros] never again gets the opportunity to hurt anyone else," he added.
Cisneros initially declined to address the court when given the opportunity to do so, but after the victim's father made his statement, Cisneros asked for an opportunity to speak. Cisneros directly addressed the victim's father, saying, "Mr. Kaiser, up to this point I have had no remorse for what I've done. I wasn't sorry until I saw you. I don't care if I have to spend the rest of my life in prison and I won't hurt anyone unless I absolutely have to." Cisneros also commented that he would not use the excuse that he has had a hard life to justify what he did. As he made his statement, Cisneros's attorney, Doug Hayes, walked away, to leave Cisneros to face the next half-century in state prison.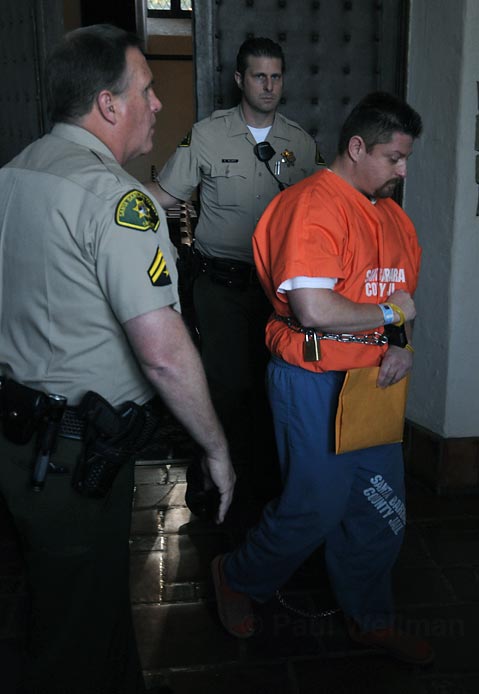 Judge Brian Hill commented that this was a "straightforward case," especially because Cisneros has been arrested and convicted for prior acts of violence. Agreeing with assessments that Cisneros was a "ticking time bomb" before the attack, Hill said the jury was fully justified in its conclusions, adding that there was ample evidence that this stabbing was premeditated and deliberate.
Prosecutor Mary Barron said after the hearing she was pleased about the verdict and the sentence.