News
Invasive Beetle Attacks Oak Trees
The Goldspotted Oak Borer May Spread Through Transportation of Firewood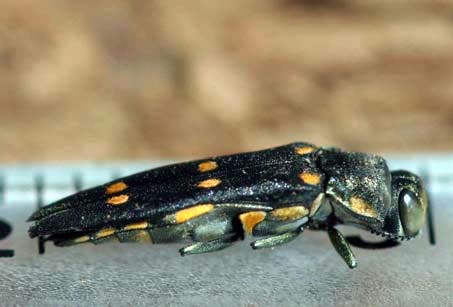 A small beetle is attacking live oak, black oak, and canyon live oak trees in the San Diego area. The goldspotted oak borer is a small invasive beetle that was first detected in Southern California in 2006. Originally from Southern Arizona, Mexico, or Guatemala, University of California scientists believe the beetle came to California through the transportation of oak firewood, and are urging citizens to take preventative measures to stop further spread of the beetle.
As pupae, the dormant beetle hides under tree bark and is extremely difficult to detect. The beetle's larval stage harms oaks by feeding on the layer just below the bark, the cambium. The beetle reportedly destroys the cambium's system that circulates water and nutrients throughout the tree, causing the tree to starve and eventually die.
UC scientists are working with federal and state agencies to control goldspotted oak borer populations and to prevent further spread. They are currently trying to find natural enemies to act as predators against the beetles. In its native environment, parasitic wasps control beetle infestation.
Thus far, the beetle has reportedly killed 20,000 oaks in the San Diego area. The beetle's spread affects more than just oak trees in Southern California. Oak trees play a vital role in native ecosystems for many animals, such as woodpeckers.
The goldspotted oak borer allegedly poses a significant threat to a particularly vulnerable population. California oaks are already threatened by drought, development and farming, wildfires, firewood gathering, and a disease known as Sudden Oak Death. The UC Riverside Center for Invasive Species urges citizens to use extreme caution in transporting oak firewood and to look out for infested wood.