Columns
Spotlight on Keg N Bottle
IV's Most Popular Liquor Store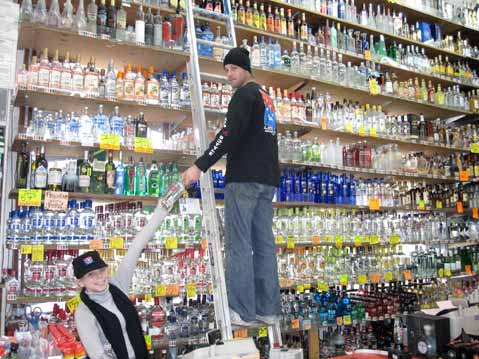 Wet as a rat, in the pouring rain, I spotted a deliveryman in shorts pushing a dolly stacked with beer into Isla Vista's Keg N Bottle.
Rain or shine, every morning when I wake up, I know I can depend on Keg N Bottle. Aisles full of grocery store munchies, endless varieties of soda, energy drinks, and iced teas will be waiting for me at Keg N Bottle. There will be skyscrapers of towering beer farther than the eye can see, and I am consistently reassured that the great wall of liquor will be well stocked no matter how many Isla Vistans raid the store. The beloved liquor store, just down the street, is also sure to have sour candy, malt balls, and other sweet treats busting out of the candy bins. And the gum selection never disappoints me.
Who is Isla Vista's Willy Wonka of sorts? Samer, manager and friendly face of Keg N Bottle, is responsible for this liquor store bliss. Samer was working for a beer company at the time when he teamed up with the owners of a store in San Diego, who asked if he would be interested in opening a second store in Isla Vista. In 2005, Samer transformed what used to be Mac's Market into Keg N Bottle.
Since I moved from Del Playa to a new apartment, I am now even closer to Keg N Bottle. As a result, my two trips a day have increased to three, four, and on restless days even five trips a day to the liquor store. I admit this dirty little secret because I am not ashamed. No, in fact I'm proud to say that I love visiting Keg N Bottle. An energy drink in the morning, a pack of gum midday, a bag of bin candy for the afternoon sugar lows, an apple to tide me over before dinner, drinks before going out, and drinks after going out.
So, what makes this place so popular? Aside from the fact that Keg N Bottle sits in a prime location at 915 Embarcadero Del Mar and has enough alcohol to make all of Isla Vista thay shings like thish, Samer credits his employees.
"When I first came here it was not popular," he said. "No one wanted to work here, there were not that many customers, and the store was ranked about average between other companies in IV." And with four other liquor stores circling the block, the competition does seem stiff.
Samer employs people who are hardworking and easy to talk to. "I made sure I had employees with the right skills," Samer said. Little by little, Keg N Bottle grew in popularity.
"It's an icon, actually," Samer beams about the store's success. I'd have to agree. Isla Vista and Keg N Bottle are like sea and sand: They just go together. Driving down Embarcadero Del Mar wouldn't be the same without seeing the glass wall of booze under the red, white, and blue logo.
"I'm with Costco head to head," Samer said, claiming his alcohol sales equal those of the bulk mega store. Even in difficult economic times, products like alcohol remain popular, if not more popular than in other times. Though Samer has seen little change in sales thus far, he commented, "Don't get me wrong, we will sell less; everyone is funded by their parents." If the recession affects parents, he predicted, it will affect student spending as well, even on alcohol. "We'll see what happens," Samer said.
Fortunately, I have a brilliant solution to declining sales: Sell alcohol past midnight. Last weekend, at 11:50 p.m., the pressure was on. People were shouting out the names of their liquor of choice: "Jack!" "Bacardi!" "One more 12 pack!" It was a phenomenal public display of equal parts inebriation and desperation. Just imagine if I.V. residents had a chance to buy even more alcohol in their half-witted state!
In California, most stores are permitted to sell booze past 2 a.m., except in I.V. Samer jokes, "They think I'm being a dick," when he refuses to sell alcohol past midnight on the dot. Customers will say "Hey! It's only a 30-, I'm not going to come here anymore." What students don't realize, especially when they're intoxicated, is that it's not his choice, it's simply the law. When I asked him if he wished he could sell past midnight, Samer just flashed a smile and nodded.
One recent day, during my visit number one of the day, Samer showed me a cardboard box full of fake ID's. Over 400 ID's were confiscated last year alone. But no hard feelings; Samer doesn't judge. "I just let it go, I don't think about it much, don't hold grudges," he said with a smile. And of the days he spends working at the Keg N Bottle, he said, "Every day is different. I get to see things that I wouldn't in any other store."
As I parted from my friend behind the counter, I asked him how many kegs he sold on an average weekend night. Samer prefers to keep this one a secret; he said he doesn't want anyone to know the exact number because they would say, "Wow, you do that much!?"
So whether you visit Keg N Bottle for vitamin water or fire water, support Isla Vista's businesses. After all, as Ozzy Osborne once said, "Being sober on a bus is, like, totally different than being drunk on a bus".