Sports
Rincon Classic Postponed
Rescheduled for February 20 and 21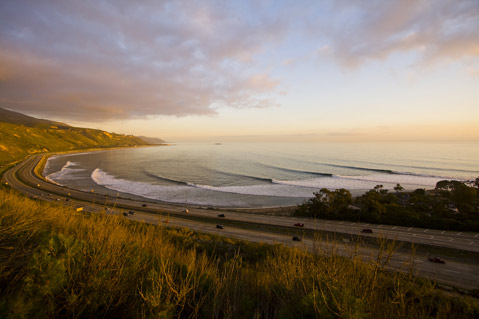 Note the south wind and gloomy skies. There is a storm a brewing out in the Pacific Ocean and, while the approaching low pressure is sure to deliver some solid surf this weekend, it also going to bring rain with it. As a result, the 27th Annual Rincon Classic, scheduled to begin bright and early on Saturday morning, has been postponed, according to contest organizer Chris Keet. "I have done it before [run the contest in a rain storm] and ever since I have promised myself I wouldn't do it again. It just isn't fair to the volunteers, the fans, or the competitors." said Keet last week, even before the wet forecast had been issued.
With a couple hundred competitors and around a thousand spectators usually on the beach, a rainy contest day isn't enjoyable for anyone. Not to mention the fact that a good dose of rainfall typically turns the waters off our fabled Rincon into a messy mix of bacteria and agricultural runoff. With the National Weather Service calling for rain on both Friday and Saturday, the above-mentioned factors forced Keet to put the contest in a holding pattern until later this month.
The two-day contest has been rescheduled for the weekend of February 20 and 21. Stay tuned independent.com and rinconclassic.com as the date approaches for more details.