Film & TV
Hana Surf Girls Ride SBIFF
Russ Spencer's New Documentary Profiles Best Friends on Maui
This joyous Thursday evening world premiere at the Lobero began with an appearance by the UCSB Polynesian dance group and ended with a Q&A featuring the stars of the documentary Hana Surf Girls, Lipoa Kahaleuahi and Monyca Byrne Wickey, and the director, Santa Barbara's Russ Spencer. Spencer found his subject by chance on a 2007 vacation to Maui with his girlfriend. Having chosen out-of-the-way Hana (pop. approximately 250) as their destination, the pair was astounded to see totally unknown world-class surfers ripping the local break daily. And not only that, some of the best of them were girls.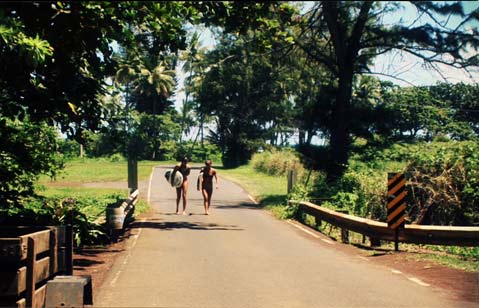 Unable to shake this vision of small town Maui life, Spencer contacted one of the best athletes in the lineup, Lipoa Kahaleuahi, and found out that she had recently begun attending UCSB. They met, and the rest is pretty much in the film.
Hana Surf Girls represents the kind of hybrid that only a confident, mid-career filmmaker like Spencer could pull off. There's plenty of great surfing footage, but it's not a conventional, or even an unconventional "surf movie." There are points at which HSG takes on some of the tasks typically required of a standard sports documentary, such as observing contests and acknowledging milestone performances. And there are even moments when it veers hard in the direction of those backgrounders that NBC concocts for the Olympics.
Ultimately though, despite the seeming informality of the approach, what Spencer has created is a modern-day, cinematic companion to Margaret Mead's classic Coming of Age in Samoa. Call it "Coming of Age in Hana" if you want, and look at this picture as an impressionist ethnography describing the elaborate and compelling folkways of an extraordinarily integrated post-modern community.
Monyca and Lipoa are the yin and yang of Spencer's cinematic koan about Hana life. At times their paired voice over narrations blend so seamlessly that it takes a moment to sort out which one is speaking. Far from being a problem, this recurring challenge highlights the film's central thesis, which is that in life it is the other that completes us. The way Spencer tells it, Monyca's Nike modeling contract and Lipoa's involvement in island politics on behalf of affordable housing are two parts of an evolving whole that belongs in one way or another to everyone in Hana.
The sheer number of things Spencer portrays successfully in HSG is impressive. From the intimate, sponsor-free Hana Surfing Games to Floataopia (yes, the one in IV), there's beautiful footage of incredible, one-of-a-kind events. And there's also (this is a very partial list): picking limpets, eating chili, cleaning ahi, building a traditional Hawaiian house on the beach, competing in the NSSA at Huntington Beach, picking opihi (limpets), jumping (off cliffs and through ropes), harvesting blossoms, ironing tea leaves, learning traditional dance, appearing on television, stringing leis, graduating high school, accepting so many leis at graduation that your head disappears, and so on.
Unencumbered by closure, the film flies along as though it doesn't have a center. That might be because, for these kids, the center right now is basically everywhere. Hana has given them a comfort level in the world that's genuinely impressive. The idea of a community this small and tight-knit becomes irresistible in the context of Byrne Wickey and Khaleuahi's radiant smiles, dazzling skills in the water, and consummate social balance on land.
Taking questions afterwards, all three of the participants, including the director, seemed reluctant to assign a single meaning or purpose to the film. Like its subjects, Monyca and Lipoa, this balanced dual portrait is only setting out on its journey, and it is too soon to foreclose on what it could mean to audiences over time. Thought-provoking and gorgeous, Hana Surf Girls will inspire conversations and dreams.
Hana Surf Girls rides the big screen once again today, Sunday, February 14, at 1:45 p.m. in the Metro 4.