Columns
Carnival: Part One
Samba Schools Battle it Out
The beauty of Carnival in Rio de Janeiro lies in the variety of festivities saturating the city. The most famous bit of Rio's carnival occurs at the Sambodromo. It's televised. It's expensive. And it's primarily frequented by tourists who are willing to drop hundreds of dollars for a spot in the animated crowd. But everybody in Rio — the majority of which are not tourists — celebrates Carnival. The week-or-so long celebration has many sides, and occurs after a months-long transformation of the city.
Since New Year in Rio, utterances of Carnival have become more and more frequent. But a month and a half ago, the laze of summer was about and future big plans were but hazy premonitions of joyous festivity. That is, unless you are connected with the secret world of the Escola de Samba, or samba school. They are the centerpieces of Carnival's official festivities.
Here I will focus on the side of Carnival that serves as the annual chance for communities to show off. The best samba dancers, most passionate drummers (bateristas), most soulful marching singers, and most charismatic parade procession leaders are regular Cariocas, mostly favelados, who love samba and are the heart of Rio's Carnival.
Rio's Escolas de Samba have been preparing their Carnival acts since last winter, when positions initially took shape for the year. From my understanding, anyone who wishes to participate simply needs to express interest by showing up to their respective neighborhood's Escola de Samba rehearsals, and talking to the directors. These "rehearsals" occur every weekend at each neighborhood's Escola de Samba. The Escola de Samba is a dancehall of sorts, where weekly practices are more like parties. Dance, drink, and singing inadvertently produce avid, skillful drummers, dancers, and singers out of the involved community. Escola de Samba "rehearsals" are open to anyone looking to have a fun, late weekend night, too.
When Carnival finally comes around, each Escola de Samba puts together a parade that will show off every little bit of their spirited group. This parade will make its way through the Sambodromo. Because Rio has so many Escolas de Samba, a number of them perform every each night for about a week.
Participants form sections in the parade. The bateristas, featured dancers, and various masses of people who dance and sometimes portray some specific theme, make up the different sections. Everybody sings. The spirited lyrics of each Escola de Samba are wailed repeatedly throughout. A select few musicians, other than the bateristas, play traditional intricate guitar parts, sing into microphones, or play brass or saxophone. They enjoy the privileged position atop the giant truck that amplifies the music through a few square miles, and drives slowly somewhere in the middle of the procession, usually near the batarista section and the featured dancers.
Every Sunday night for the last few months, there has been a rehearsal performance at the Sambodromo. This week, tourists pay hundreds to see schools show off their televised, perfected performances. But the Sambodromo rehearsals were free, and held crowds primarily made up of favelados there to support their own community's Escola de Samba.
Last year's winning Escola de Samba, Salgeiro, is a local favorite at the moment. Their song can be heard throughout the streets and markets this week. The main refrain is a good example of the spirit of Carnival:
Uma história de amor
Sem ponto final
Academia do samba é Salgueiro
No livro do meu carnaval
A history of love
Without an end
The academy of Samba is Sangueiro
In my book of carnival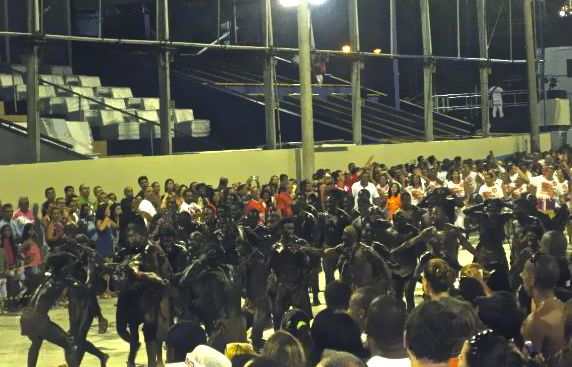 Their final Sambodromo rehearsal before Carnival officially started showed off their creative history lesson-themed parade. Each section of the parade procession showed a different point in history. Striking to me was the group responsible for portraying Brazil's history in the slave trade. Fifty or so big Brazilian men, painted in black and almost naked, did a spirited dance to portray the suffering of slaves. They each wore giant smiles throughout, and danced with striking, flamboyant enthusiasm. Never in the U.S. could one get away with such a festive portrayal of the history of slavery.
Other points in history featured big, colorful dresses on spinning women, and, of course, the featured samba-dancing women. They move their lower bodies with sewing machine-like rapidness, stomping their feet and shaking their butts ceaselessly and cheerfully. Somehow all this world class Samba action is not inhibited by the 6-inch metallic heals worn by the women, in addition to their luxurious, sequined, feathery thong/wing/headdress costumes.
Other, less famous Escolas de Samba make up for their lack of funds and popularity with community support and excitement. The Rocinha Escola de Samba is an example of an Escola that is not all that popular outside of Rocinha, the biggest favela in Rio. But a night at one of their rehearsals shows the unimportance of popularity and fame. Within the community of Rocinha, they are all that matters. The week before Carnival, they moved their rehearsals to the street along the beach near Rocinha, in the wealthier neighborhood of São Conrado.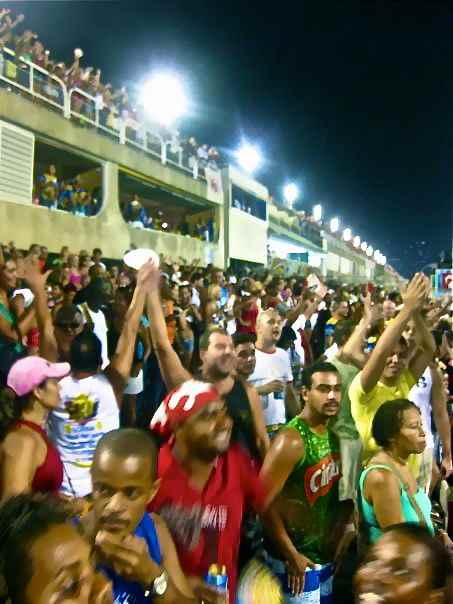 Their costumes are not luxurious. Their parade procession is less focused on impressing the global community than, say, that of world-famous Salgeiro. But all community members wear vivid smiles, sing at the top of their lungs, and bang their drums with such fervor that it becomes evident that in that place at that time, the Escola knows or cares not of the tourists, the more flashy costumes of other Escolas. During a parade, the Escola de Samba involved may as well be the center of the universe. This phenomenon undoubtedly fills the heart and soul of every community in Rio during Carnival.
What was once a simple Italian festival which literally entailed "putting away the meet" (carnivale, in Latin), spread throughout Europe, to European colonies, and eventually became richest in cultures in the Americas that more heavily involved the African slave trade.
The connection between history and Rio's Escolas de Samba shows the magnificence of carnival and its accessibility to every sector of society. In this light, the touristy party scene that surrounds the holiday is marginalized.
The other side of Rio's Carnival is found in the Bloco. These festive street parties show an entirely different way of celebrating, and are just as ever-present as the Escola de Samba parades. Now it's time for me to get swept up in the final Blocos of 2010's Carnival. Expect more on Blocos shortly!