Living
Women's Weight-Loss Campaign Goes National
Slim Red Dresses Symbolize Heart Health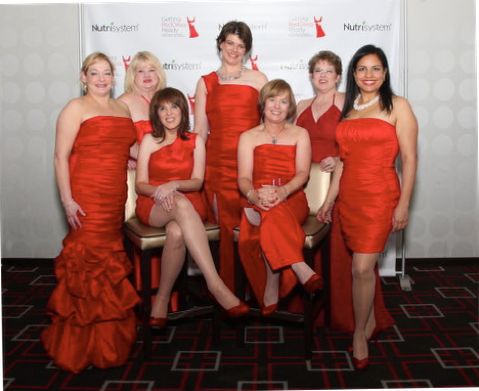 Santa Barbaran Evan McCabe helped paint the streets of New York red on National Wear Red Day, February 5. She was pampered and celebrated as one of eight women who completed a seven-month challenge to lose weight, get heart-healthy, and step out in slimmer red dresses. It was all part of the Getting Red Dress Ready Campaign put on by the National Coalition for Women with Heart Disease.
McCabe and her cohorts hit the streets of New York in style, stepping out in new red dresses donated by Jessica McClintick; red heels donated by Kim Kardashian's company, Shoedazzle.com; and Count Me Healthy goal-tracking bracelets. They were given makeovers by Sephora. Waiters at their hotel joined in by wearing red ties, and they appeared on the Today Show, where they were, as McCabe put it, "treated like queens." She added, "Our goal was to educate about women and heart disease," said McCabe, "and we accomplished that."
McCabe, a registered nurse specializing in cardiology and a professor at Santa Barbara City College, said she denied her health problems until she experienced heart-disease related chest pains—this, despite the fact that for years she had educated people about this very condition. She resolved to make a difference as in her own life as well as the lives of others. Now, as an enthusiastic advocate for women's heart health, she lost 43 pounds and continues to volunteer her time to motivate others.
One of the most important things to know about heart disease, said McCabe, is that "it happens to all women; it does not discriminate by age or race. All women are at risk." It is the number one killer of women in the United States; one out of every three women die from heart disease. In addition, 61 percent of American women are overweight, a leading risk factor for heart disease.
In response to this harsh reality and rising health crisis, the National Coalition for Women with Heart Disease, a nonprofit that describes itself as the nation's only organization solely dedicated to promoting women's heart health, partnered with Nutrisystem to make eight women WomenHeart Champions. The Champions received complimentary weight-loss programs including meals, counseling, and other support. They were trained to become role models as well as educators. While these eight have received considerable recognition, they are merely the poster-women for the real campaign, which, throughout February, American Heart Month, aims to challenge overweight women all over the United States to live healthier lifestyles.