Columns
Carnival: Part Two
Blocos Transform Rio into a Giant Party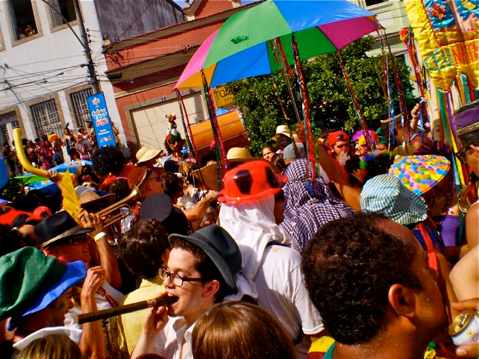 One night of Carnival, a friend and I were walking along Copacabana Beach toward Ipanema Beach in search of a group of friends at a specific bloco. (A bloco can be a block party, street party, party in a park, or a parade.) It was difficult to avoid becoming swept up in various other blocos along the way. Every few minutes while walking along the beach, we encountered another costumed group of dancing, excited people surrounding loud samba.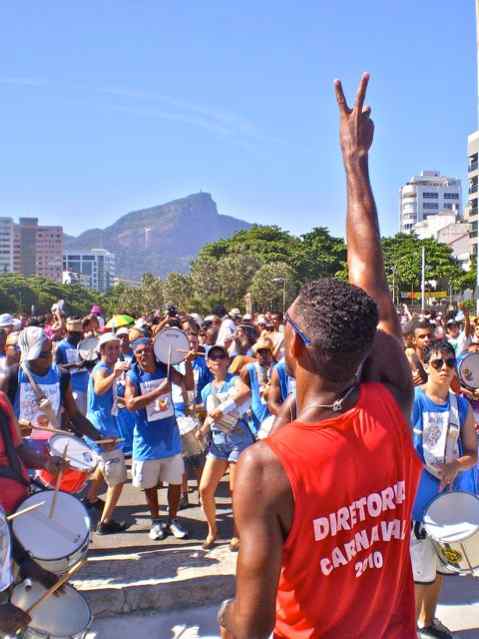 Two gringos, who we thought were Scandinavian, approached us pathetically, and asked the most ridiculous question. "Can you tell us vere is ze Carnival?" We were confused. We were disgusted. We said, "Everywhere!" We pointed behind us and in front of us, where caiparinha vendors and street dance parties speckled the street as far as we could see. We pointed to the left, toward the crowded beach. We pointed to the right, where streets and neighborhoods not directly on the beach were engulfed in the same festive atmosphere.
They were also confused. "But vat street? Do you know ze address? How do ve get there?"
"Every street! The address is Rio de Janeiro. All of it. You're here!"
After another minute of confusion, they said what they really meant. "Vare is ze Carnival zat ve see on the television?"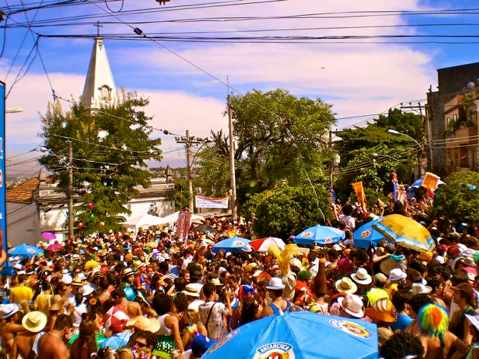 Oh, that. They were in search of the official Sambodromo samba school competitions. These take place near the city center, and we told them they needed tickets. Very expensive tickets. We told them it was very far away. It's even farther away during carnival, when blocos inhibit public transport from following its usual, still-not-that-quick routes. We kept walking, and left the tourists contemplating their next move.
Carnival in Rio undoubtedly revolves around lively samba music and dance that Brazil so proudly and fervidly embraces. But the world-famous, globally broadcast Samba School competitions are not nearly all that Carnival has to offer. More than anything, Rio celebrates Carnival with ubiquitous blocos. This is the side of Carnival that is more widely accessible, and most widely enjoyed.
During Carnival, it's easier to find the most poppin' party in this giant city than not. One simply needs to wander toward loud samba music to be swept up in a massive street party. Forgot a costume? You can buy cheap sparkly hats, masks, and whatnot all over the street. Didn't pregame? Walk up to any stand where cachaça, limes, and sugar are held and walk away with a deliciously strong caiparinha.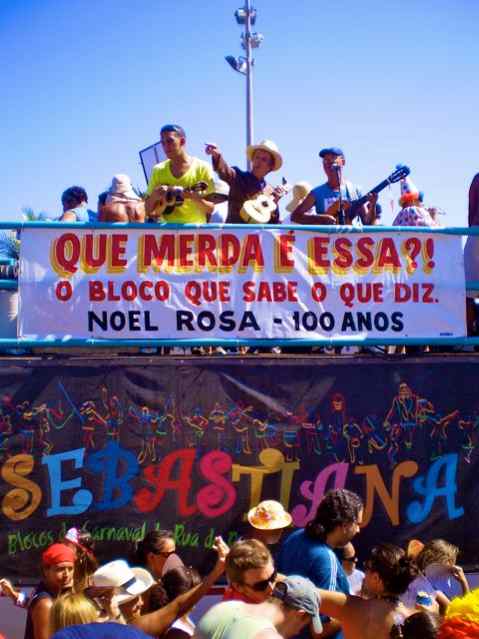 The daily time period for which this is true is roughly from 8 a.m. to 6 a.m. Some blocos start early in the morning, like the one in Santa Teresa for which I got up inappropriately early, only to drink beer and dance. Some start at midnight. The celebrations continue until sunrise, if you head to the beach after the official blocos end. And every hour in between is just as lively.
For example, I was taking a well-needed nap at around 11 a.m. on a tourist-saturated beach in Ipanema one day, when I felt the vibrations of hundreds of drums resonating throughout the sand. Unable to fight the endless festivities of Carnival, I wandered down the beach until I came across a crowd of perhaps thousands of people parading down the street. The centerpiece was a huge drum section followed by an amplification truck. On top of the truck, people sang and played electric guitars and basses, trumpets, saxophones.
I followed the procession about a mile, until it stopped right in front of the canal that leads inland toward the Lagoa, a beautiful lagoon that maximizes the city's waterfront. From here, the famous Cristo Redentor statue is visible on the tallest mountain, looking over this entire massive city. Between Cristo and the sea, the parade halted, and the parade director led his bateristas (drummers) through another half-an-hour of incredible, loud, intricate drumming. People surrounded to dance to the lively samba rhythms. After, everyone dispersed, and undoubtedly had no trouble being swept up in the next incredibly engaging bloco.
Blocos were frequent for about a week-and-a-half, until Fat Tuesday. Actually, Ash Wednesday and subsequent Lent made less of a religious difference than I thought they would. Wednesday is not time for the biggest party in the world to end; it's right before the weekend! Carnival continued well into Sunday night. It was gloriously blasphemous!
The real way to celebrate Carnival is not to search exclusively for "vat ve see on ze television." If you make it to Rio, you made it to Carnival. Just wandering around unfailingly entertains everyone, from the most confused tourist to the carioca musician.