Visual Arts
Divine Inspiration Gallery
Eight Years on State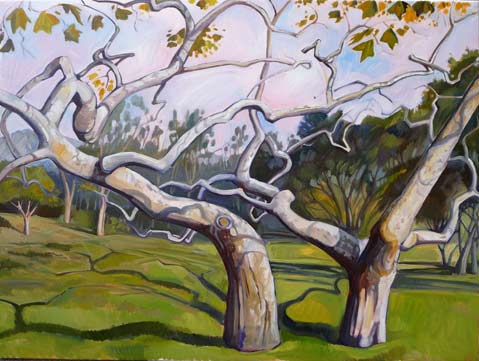 Name: Divine Inspiration Gallery
Location: 1528 State St.
Owners: Sonia Adams and Sherry Spear
Date of Opening: 2002
Focus: Sherry Spear had always dreamed of owning an art gallery. When she was diagnosed with breast cancer in 2002, her best friend Sonia Adams was inspired to help her make that dream come true. Together, Spear and Adams opened Divine Inspiration Gallery that same year. Adams also owns the legendary Madame Sonia Rosinka of Stearns Wharf as well as Chase Restaurant and Lounge.
The Divine Inspiration Gallery was established in Carpinteria. After five years, it relocated to its current location on State Street, across from Cantwell's Market. Adams and Spear believe art is divinely inspired. For over eight years, the two have been showcasing the work of regional and upcoming artists. The gallery's peach-colored walls and warm lighting make it a welcoming environment. "We wanted people to feel as if they were looking at the art within the comfort of their own home," Spear explained..
Current Exhibition: The current exhibition features Santa Barbara land and seascapes by five area artists: Jeremy Harper, Anne Shelton Beth, Allison Horst, Gerry Winant, and Ann Sanders. All of these artists employ textured, sweeping strokes in a soft, earth-toned oil palette. Also showing in the gallery are "Magical Moment" giclée prints. These are collaborative works consisting of photography by Sonia Adams and detailed, purposeful strokes of finely blended pastel drawing by Cathryn Mailheau. Sharon Spear completes each piece by adding thicker texture to create a trompe l'oeil effect.
Divine Inspiration Gallery provides a warm and comfortable yet formal setting. As a new member of the monthly 1st Thursday art walk, the gallery will be opening a new exhibit in April, and will be celebrating their anniversary in June.
Hours and Contact: Tues.- Fri. 11am-5pm; Sat. and Sun. 11am-2pm. Call 962-6444 or visit divineinspiration.us