News
Which Republican Will Face Lois Capps?
Friday Luncheon Introduces Montecito Hope Ranch Republican Women's Club to Five Candidates
The way that the congressional districts are drawn, Republicans don't have much of a chance in beating Rep. Lois Capps come November when the longtime congresswoman runs to retain the office she's held since 1998. The 23rd District snakes from Ventura County along the liberally minded coast through Santa Barbara to San Luis Obispo, with registered Democrats outnumbering registered Republicans two to one. But in this age of partisan ire — spurred most recently and dramatically by the controversial passage of national healthcare reform — that doesn't mean there aren't plenty of people lining up for the shot to take down Capps' well funded and widely supported political machine. And if other races across the country are any indication, this year might be the only real chance for a Republican takeover, at least until district lines are redrawn after this year's census.
A total of five candidates are currently vying to win the Republican Party's primary election in June, and on Friday at a luncheon put on by the Montecito Hope Ranch Republican Women's Club, they showed their faces to the dozens who assembled at the Santa Barbara Yacht Club. Each had about 10 minutes to discuss their platforms — and there was plenty of resonance between the five, with denouncing healthcare reform and putting the focus on private enterprise rather than government spending as recurrent central themes. But at the end of the event, a question posed by Dr. Dan Secord — the former city councilman who is running again for the County of Santa Barbara's 2nd District supervisor's seat — really framed the issue best: How in the world will one of them beat Lois Capps?
While Republicans will vote on one of these five candidates in June, the real answer to Secord's question won't really be known until November. Until then, here are brief synopses of what each candidate spoke about during the March 26 luncheon.
John Davidson
The owner of a successful insurance and financial services firm in Thousand Oaks who was raised by an impoverished and immigrant single mother, Davidson started by listing his five grandchildren as his five reasons for running. "Now my grandchildren have inherited an enormous debt for something they didn't ask for," said Davidson in critiquing the "tax and spend policies of [the Obama] administration" that he believes has created a "predatory and spendthrift bureaucracy" with a "strangulating regulatory environment." Painting himself as the living example of the American dream and a businessman rather than politician, Davidson said, "I've been trained my whole life for this moment in time."
Davidson took Capps to task for not reading the healthcare reform bill word-by-word, mentioning that he had challenged her about a particular issue during a town hall meeting last year. "She did not read that," claimed Davidson. "I can say that with clarity….At least get the Cliff Notes for crying out loud." Pledging to actually read legislation if elected, create more private sector jobs, and lower the carbon footprint, Davidson said, "I'm Lois Capps nightmare. I'm her worst nightmare. She will never debate me."
David Stockdale
Identifying himself as a "citizen candidate," Stockdale — a Kansas City native who now runs an insurance business in Santa Maria — attacked the government's "massive spending, massive debt, and suffocating business environment" and espoused a "back to basics" message that valued "personal responsibility" over all. "Any government that's big enough to give you everything you need is big enough to take away everything you have," explained Stockdale, who said that the need to retake Congress is more than being just Republicans and conservatives. "We must be patriots," he said, advocating a return to limited and constitutional government.
If elected, Stockdale said he would do three things during his first two years in office: One, face illegal immigration head-on by sealing borders, stopping government handouts, and making it "virtually impossible for an illegal immigrant to get a job." (He later, without irony, also explained the importance of getting the Hispanic vote and how manufacturing is the immigrants' "conduit" to the middle class.) Two, change the way that bills get written in Congress as a means of eliminating "pork barrel earmarks and under the table deals." And three, reducing taxes on business. "The only stimulus package that American business needs is for the government to get off their backs," said Stockdale.
Claiming that seven out of 10 Americans were against the healthcare bill, Stockdale explained, "That means seven out of 10 Americans still love liberty." Because of this, said Stockdale, "The enemy is weak."
Clark Vandeventer
Tall and youthful, Clark Vandeventer — who worked for nearly a decade at the Young America's Foundation as deputy director of the Reagan Ranch and now is CEO of World Changers, Inc. — teared up at the start of his speech when thanking his wife for her support. "When I was not ready, she was," said Vandeventer, who lives in Goleta and says that fixing America is not so much about stopping a speeding train but moving the train in an entirely different direction. Though he nearly gave up his campaign, Vandeventer explained, "I had too much skin in the game and I couldn't quit."
Detailing how government-employed cooks, landscape architects, and PR people make way more than those in the private sector, Vandeventer explained, "We are dealing with a government class that is completely out of touch with reality." Invoking Ronald Reagan's strategy of cutting taxes and freeing up private enterprise and explaining that his team includes people who helped Scott Brown win his seat in Massachusetts, Vandeventer said, "It is time as a country that we have grown-up conversations….It's been a long time since we had tough talk."
He said that running for office equates to the "most important job interview in my life," a journey that's resulted in many folks saying that he doesn't look like the typical D.C. politican. To those people, he responds, "Wouldn't you like someone in Washington to look a little more like someone from Santa Barbara?" In the Q&A session following the speeches, Vandeventer answered Secord's question about defeating Capps by explaining that, when he asks people about the congresswoman, they typically respond with "She's a nice person. Given the current state of the government, said Vandeventer, "I'm not sure that nice is enough."
Tom Watson
As a Top Gun in the U.S. Navy, Watson flew F-14s before moving to Carpinteria and starting Agile RF, a tech company in Goleta. "I'm a conservative and an originalist," explained Watson, meaning that he believes in a strict interpretation of the constitution. "It's not a living document," he said. "It's a contract."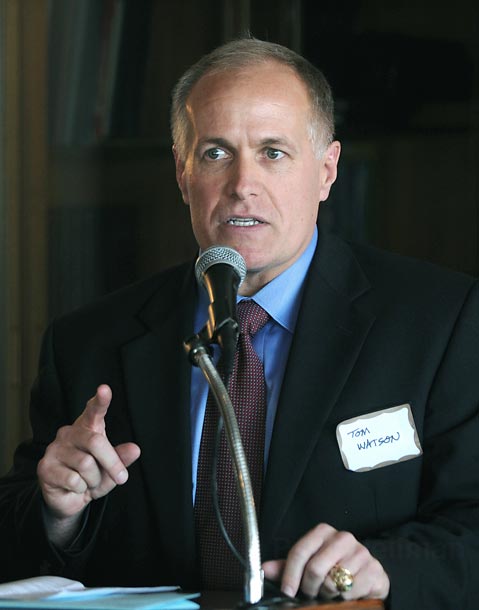 Incensed by the healthcare reform package but pleading to remain positive and cheerful in his campaign, Watson explained, "Nobody can say anymore that Republicans and Democrats are the same. They clearly are not." He said that Democrats are "the party of the state," explaining, "They made it clear that they treat the private sector as little more than their ATM." Pointing out how the healthcare bill's negative impacts are becoming more and more known every day, Watson claimed, "This law is like a rotting fish sitting in the sun. The more it sits out there, the more it's going to stink….Running on repealing this monstrosity is going to be easy." Watson said that he would not be surprised if the Democrats lose 100 seats in Congress over the healthcare "debacle."
"We can fix what's wrong with this country without ruining what's right about it," said Watson. When asked about his chances at beating Capps, Watson explained, "In normal times, it's an almost impossible task. These are not normal times."
Carole Lee Miller
Self-described as an "independent Republican" and a "California girl," Carole Lee Miller was the last to enter the race and the last to show up on Friday, explaining that she was late because a contractor who was supposed to be fixing her Pismo Beach home after a recent fire failed to show on time. She believes Washington has "disconnected" from the rest of America and said that even longstanding Republicans have to be removed because of their bad habits. "I think we've had enough," said Miller, who advocated for "a business Congress."
Though less polished than the other four candidates, Miller did break out some oneliners that fit the luncheon's harbor setting. "I plan to capsize Capps when I get there," she explained. "Her rudders have gone crazy." Miller, who promised to assemble a consulting team of experts, also quoted a line from history: "It's getting started that is the toughest part," attributed to Mrs. Donner of the ill-fated Donner Party.