Film & TV
Clash of the Titans
Sam Worthington, Liam Neeson, and Ralph Fiennes star in a film written by Lawrence Kasdan, Travis Beacham, Phil Hay, and Matt Manfredi and directed by Louis Leterrier.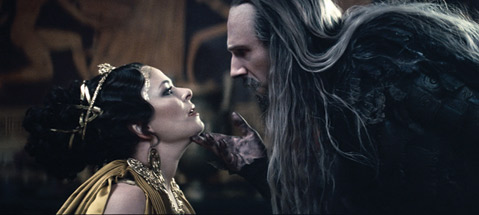 At numerous points in Clash of the Titans—an occasionally interesting, popcorny diversion, but mostly a bombastic dullard of a movie—our credulity is strained to the point of laughter, partly because the film itself works so shabbily at gripping our attention and suspending disbelief. One of these such moments occurs when Perseus (Sam Worthington) is discussing mythic matters with his father, Zeus (Liam Neeson); what we hear are not the words, but a clash of accents between Worthington's Aussie twang and Neeson's brogue.
A remake of the 1981 film, and almost 30 years richer in digital wizardry, this Clash ups the ante of visual and sonic intensity as it follows the efforts of young warrior Perseus, in love with Andromeda (Alexa Davalos), who must battle the snaky-coiffed Medusa and the singularly unpleasant Kraken monster. Once again, Ralph Fiennes shows his superior skill in the line of supreme thespian villainy as the hygienically challenged Hades, much like he did as a WWII concentration camp head in Schindler's List (which also featured Neeson as the wise and kindly hero).
Along the way, tensions between mortals and gods, and varying laws of the fantasy universe, keep getting fuzzy. But then, clarity isn't the goal here: Blockbuster patrons and computer gamers are the target demographics. We get smatterings of the mythological backdrop of this overblown claptrap of a story, but generally, we get the sense that the filmmakers are eager to dispense with the chatter, unveil the technology, and let the games, the chases, the bloody, CGI-enhanced fights begin already.
Apparently, in the interest of spicing up the sensory experience while also tapping into the latest craze among Hollywood fantasy and action films, Clash was retrofitted from its 2-D form in post-production. This 3-D business has got to stop. Apart from a brief period in 1950s drive-in culture, the gods of cinema never decreed that we would have to strap ourselves into irritating cheap sunglasses to partake of murky visuals and occasional eyes-a-popping stunts irrelevant to the medium. Zeus would not be amused.