Arts & Entertainment
Author Interview
Daphne Rose Kingma's New Book Guides Readers Through Crisis
Santa Barbara-based therapist and bestselling writer Daphne Rose Kingma is a specialist in the art of relationships. The author of 12 books, including Finding True Love, The Future of Love, and Loving Yourself, she's been dubbed the "love doctor" by the San Francisco Chronicle and has appeared on Oprah six times to talk about the subject. Yet her latest book takes a slightly different topic, focusing instead on crisis, and how to deal with it. In a phone conversation last week, Kingma explained what motivated her to write The Ten Things to Do When Your Life Falls Apart: An Emotional and Spiritual Handbook.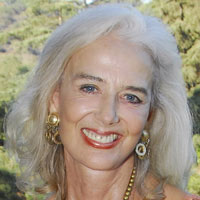 "A lot of people are going through a very hard time right now," Kingma reflected. "People's issues are not just relationship issues; they are anxiety about finances, generalized fear about what's happening in the world, concerns about healthcare." In her writing, Kingma aims to address the needs she sees in the world around her, and so she set out to write a guide for people dealing with change, loss, and upheaval. "You might find yourself having to cut up your credit cards, go through a divorce, or put your house on the market, but how do you navigate the feelings that come along with this devastating new situation?" Kingma asked. "What do you call on to cope with these amazingly difficult experiences?
The Ten Things to Do When Your Life Falls Apart is a response to these questions. Even its chapter headings—"Cry Your Heart Out," "Do Something Different," and "Remember Who You've Always Been"—read like clear and simple instructions. Yet Kingma acknowledges that the process of navigating crisis isn't easy, especially in our culture. "A lot of people feel that difficult things should not happen to them," she noted. "That's a very American idea. We are not very well-equipped when really tough things come along. One of the things I wanted to offer is that no matter who you are, difficult things will happen to you, and you are equipped to handle them in a very profound and beautiful way."
In fact, Kingma suggested, crisis is not something to be avoided at all costs as it is an opportunity for growth and deepening. "Crisis takes you to a deeper place inside yourself," Kingma explained. "If you miss that opportunity, then your crisis will have been in vain. This book is really an invitation to surrender to the process."
In this sense, The Ten Things speaks to more than just individuals or couples in crisis; it acknowledges the state of our country and our world today. "These times are one giant invitation to all of us to wake up to the nature of ourselves, to something more than just the comfortable life," Kingma said. "This is an incredible opportunity on a personal level and on a collective level to get in touch with something deeper in ourselves." At the same time, The Ten Things is a book that can make a big difference to readers who are overwhelmed by difficult personal circumstances. "This is a book of practical emotional and spiritual advice," Kingma said. "It will help you through the anguish."
4•1•1
Daphne Rose Kingma will sign copies of her book at Chaucer's Books Tuesday, April 27, at 7 p.m. For more info, visit daphnekingma.com.