SMOKE GETS IN YOUR EYES: When it comes to City Hall's eons-long effort to craft a new-and-improved medical pot shop ordinance, that Fat Lady ain't remotely ready to sing. In fact, she needs to start packing on some serious pounds. The fact is, the measure finally reported out of the council's ordinance committee this Tuesday is much tougher and more restrictive than what's on the books now. Even so, it's still way too permissive to pass muster with the sizable Just-Say-No coalition that's bird-dogged the issue every centimeter of the way. At the current pace, the council will still be debating medical pot shops in November when voters, statewide, will be asked whether they think pot should be legalized for even recreational purposes.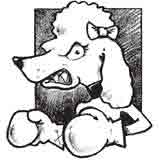 At the end of Tuesday's meeting's, Councilmember Bendy White, ever gracious in his old-school way, commended participants on both sides for their involvement and expressed hope that his committee had devised something — after considerable haggling, compromise, and give-and-take over the stretch of four long meetings — everyone could live with. White's entreaties, however, found no purchase with the "Ladies in Red," an informal group that's lobbied — often wearing red sweaters — for the most restrictive language possible. They responded to White's concluding remarks with much collective head-shaking. "No way," muttered one. "Not going to happen."
But they'd said as much earlier. "Frankly, we don't really accept it," declared anti-pot activist Janet Rouse. Another, Tony Visalo, pointed out that when City Hall first allowed medical pot shops to open for business, 125 California cities had banned them outright. Today, he noted approvingly, that number has grown to 250. And clearly, that's what they want for Santa Barbara. Despite universal assertions that marijuana meets many dire medical needs, they oppose pot shops, plain and simple. For parents trying desperately to keep their kids on the straight-and-narrow, they claim the very existence of pot shops is a not-so-subliminal exhortation to jump the tracks. For people struggling to stay clean and sober, they say, pot shops pose a terminal temptation.
I sympathize, but only up to a point.
According to their legal analysis, nothing in Prop. 215, the 1996 initiative that decriminalized medical marijuana in the first place — or any subsequent state bills — allows for commercial retail operations. As a practical matter, the problem with this notion is that when people are really sick, they need someplace — preferably, safe, clean, and convenient — to buy their medicine. Only those rare cancer patients blessed with ESP could be expected to know, months in advance of their diagnosis, that they'd better join a nonprofit collective, as the law calls for, and start growing the bud that will help them cope with the ravaging treatments that their disease demands. By this same logic, diabetics would be required to produce their own insulin, and asthmatics their own inhalers.
The Just-Say-No contingent — which includes parents, business owners, school district officials, and a large smattering of the recovery community— have been lobbying for a 1,000-foot buffer that would separate pot shops from any school, park, halfway house, or recovery facility. The ordinance committee has opted for 500 feet instead. That's because a 1,000-foot buffer would effectively prohibit any dispensary from opening its doors. Period. But that, I suppose, is the point.
In this vein, I'm wondering why no one has seen fit to object that some well-known recovery centers are currently within spitting distance of some equally well-known watering holes. The Sportsman bar on Figueroa Street, for example, serves as home-away-from-home to a class of professional imbibers, some of whom greet the dawning of each new day with a tip of the elbow. But not 30 feet away sits Zona Seca, a nonprofit that treats thousands of people every year, mostly youth, dealing with serious substance-abuse issues. They've been neighbors now for many years. In all the times I've bumped into Zona Seca executive Frank Bañales on the street, he's never once complained about The Sportsman leading his clients astray. Maybe it just slipped his mind.
Clearly, the Ladies in Red represent a broad grassroots effort, agitated in no small measure by the calculatedly coy vagueness in state medicinal marijuana law — a banana peel on the road to legalization — that gives witting rise to all kinds of nudge-nudge-wink-wink abuses. Taking full advantage of this political opportunity is Assemblymember Pedro Nava, now in the twilight of his political career. Nava's wife, Susan Jordan, is running to fill his seat in Sacramento, but to get there, she must first beat Councilmember Das Williams in the Democratic Party primary this June. That Williams has been enormously aided and abetted his entire political career by a major benefactor in pot-legalization efforts, Santa Barbara gazillionaire Peter Sperling, has been lost on nobody. Nor have Williams's exertions on behalf of medicinal marijuana dispensaries here in town.
It's hard to imagine Nava didn't have all this in mind last week when he presented the Ladies in Red a framed letter of commendation at a press conference in front of the courthouse late last week. Mayor Helene Schneider, a strong Williams supporter, noted that Nava never sought to communicate his concerns directly with City Hall and questioned why — if he was really so concerned about the issue — he never sought to clarify the notoriously opaque state laws guiding dispensary regulation. After all, he is a state legislator. Nava replied that Santa Barbara dispensary problems — which he's described as "out of control" and likened to "the Wild West" — were entirely of the City Council's making. State initiatives cannot be amended by the legislator, Nava insisted, only by other voter initiatives.
That may be, but it didn't stop legislators Mark Leno and John Vasconcellos from giving it a try, as they introduced — and subsequently passed — the dubiously titled bill SB 420. One outstanding issue just screaming for legal clarification is the degree of compensation to which operators of pot dispensaries are legally entitled. The amount matters, especially if you're trying to discourage commercial retailers from entering the field. But the law calls only for "reasonable compensation," which as City Attorney Steve Wiley has frequently noted, is totally subjective. Maybe Nava, a skilled attorney, will see fit to address this issue. It might be genuinely helpful. In the meantime, if the Fat Lady needs to put on some weight, maybe she could get some medical pot. It's an effective appetite stimulant. Or so I've been told.