Arts & Entertainment
Christian McBride Comes to the Lobero
Great Bassist McBride Is Coming, and Joe Goes to the Fair
JAZZ, REAL JAZZ, ON THE TOWN: Déjà vu sensations may descend, hearing that Christian McBride is playing the Lobero on Saturday, paying tribute to his late friend and mentor Ray Brown. Three years ago, the bassist led a trio with pianist Benny Green and drummer Gregory Hutchinson here, in homage to Brown. The difference this time is that McBride is leading his own new band—which is making mainstream jazz at its finest—and promoting a potent album, Kind of Brown (Mack Avenue)—its title a play on Miles Davis's best-selling masterpiece, Kind of Blue.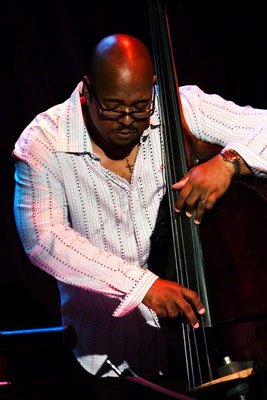 McBride, in the jazz spotlight for more than fifteen years, is generally regarded as one of the most all-purpose jazz bass greats around, a master of both the acoustic and electric bass (no small feat). He has graced Santa Barbara stages many times, in many guises: Aside from his 2007 Brown tribute, he showed up at the Lobero as a heroic third of the Pat Metheny trio, along with drummer Antonio Sanchez—for a memorable night of blowing. Most recently, McBride plugged in, turned on and dialed up fusion memories in the all-star Five Peace Band led by John McLaughlin and Chick Corea at Campbell Hall last year. This time out, it's Christian McBride and Inside Straight that will be giving straight-ahead jazz a very good name.
FAIR ENOUGH: Cyberspace is a beautiful and pernicious place. It sucks you into its cool, cruel vortex and fools you into believing that the virtual is more real than reality. Linear time gets blurred. You glance at your watch with alarm and think, where did the time go? Where? It got lost in/stolen by the Internet. In these distressing moments of Internet overdose, you have to flee to the world of real things.
One of my favorite local online overdose antidotes is the Santa Barbara Fair & Expo—the 21st annual of which went down last week. It's a rite of spring the appeal of which seems to strengthen yearly for both the 'net-addled and wannabe rural among us. Where else but at Earl Warren Showgrounds will you find such a multi-sensory, multi-style, and kitschy-nostalgic cavalcade?
The pace varies wildly at the Fair, from a sauntering, space-cadet shuffle to the celebratory nausea-inducing gyrations of the Zipper, on the gaudy/good funway. Aroma-wise, there's livestock and BBQ. Musically, one could hear hot-and-steamy, tightly harmonized Norteño sounds from Los Broncos del Norte on the Candy Shoppe Stage and, across the way, the alt-indie sound of rorocar on the Gum Drop Stage, then hosting singer Ally Shinas, mixing originals with old gems like "Angel from Montgomery." In a more unexpected musical sensation, the memory lane-tripping and metrically challenged sound of the Grateful Dead's "Playing in the Band" came oozing out of the Mardi Gras funhouse.
Carny culture ain't always what it used to be. Yuppie-hippie influences have crept into this time-fuzzy byway of American culture. Take the eco-minded Dr. Solar and his Good Time Sunshine Medicine Show, operating out of an old-school but solar-powered wagon seemingly related to the one seen in Terry Gilliam's The Imaginarium of Dr. Parnassus, but minus the hallucinogens. Checking in with the animal kingdom (nonhuman division) is always a vibrant and odiferous treat at any fair, especially in a region that's just over the 154 from the bucolic, agricultural splendors of Santa Ynez and other rural county terrain. Being licked by a cow or serenaded by a pair of goats invites meditations on becoming a vegetarian.
Sooner than desired, it was time to get back online and see what I had missed in the other "real world," aka cyberspace. I had stayed too long at the fair, but it was all for the good.
ALBUM TITLE OF THE MONTH CLUB: Self-made groove-jazz star Charlie Hunter—he of the eight-stringed party-favor virtuosity—is touring on the heels of his latest album, Gentlemen, I Neglected to Inform You You Will Not Be Getting Paid. Needless to say, it will be payday Sunday at SOhO—remuneratively, for the musician and, musically, for the fans.