Dance
UCSB Dance Company Spring Concert
Eight-Member Company Gives Its Final Performance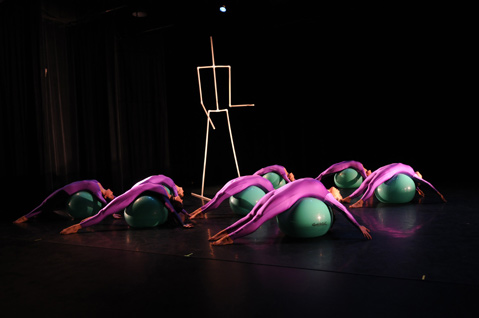 Last fall, eight UCSB seniors were chosen to form the university's dance company. Last Thursday at Center Stage, they gave their final performance together after nine months of rehearsing and performing in venues from New York to California. The UCSB Dance Company is a rigorous preparation for life as a professional dancer, and from the whoops they let out at the end of the evening, it's obvious these young women are eager for whatever greets them on the other side of graduation.
This year, the company's repertory included works by faculty members Valerie Huston and Jerry Pearson; department alumni Bradley R. Lundberg, Teresa Chapman, and Erin Martinez; and current student Myra Joy Veluz. Between narrative and abstract works, references to dance history and jazzier numbers, these dancers were exposed to a range of styles and technical demands all within the scope of an evening-length performance. The show opened with "Sweet Suite," Lundberg's interpretation through movement of classic Nina Simone songs. The dancers alternated between rapid, balletic footwork and gymnastic inversions, returning over and over to a central circle where they danced together, arms linked like children at play.
In "Shift," Chapman built a recurring theme of staggering lunges, reaching arms, and scooping hands. The dancers swooped and flocked, moving with the controlled chaos of seagulls in shifting air currents. In contrast, Veluz's "Le Canibal" relied on heavy, weighted movement. Tribal music, mud-smeared bodies, and wild facial expressions set the tone for the final scene in which Kiara Kinghorn became the victim of a cannibalistic feeding frenzy. Just before blackout, Brittany Castillo drew the back of her hand across her mouth with convincing relish.
Early modern dancer Isadora Duncan was the subject of Huston's quintet, "To Isadora." Clad like Greek maenads in gauzy, one-shoulder shifts, the women captured Duncan's style of free-flowing movement and dramatic gestures. In duets and ensemble work, they seemed to float, bringing the piece to a delicate, hovering suspension at its end. Minutes later, some of the same dancers were darting across the stage and stopping short, stirring their arms and hips in rapid circles and flapping their hands. "To the other end" encapsulated Martinez's signature blend of intense urgency and languid, drawn-out pauses. An explosion of whipping, successional turns dissipated as quickly as it arose, leaving one dancer staring into the audience as if searching for an answer.
In closing, Pearson's visually arresting work "In Our Own Image" tested the company's ability to work as a team, coordinating their movements and managing props. They passed with flying colors.