RUHRING FOR MOERS: Rust never sleeps in the Ruhrgebiet (Ruhr region) of Germany, and this month a veritable circus of huge yellow balloons reminded everyone of the area's past and its unfolding future. Visitors to the Ruhr, the "European Capital of Culture" in 2010, and passengers in low-flying planes saw the scattered presence of 350 giant yellow balloons perched at 80 meters above ground. Welcome to Schachtzeichen ("Shaft Signs") — a Christo-esque project similar to his 1991 Umbrellas project on the Grapevine — designed to commemorate the Ruhr's coal mines of old.
This former industrial heartland of Germany — our tour guide called it a "triangle of coal, steel and beer" — found its stronghold waning in the '60s. Now, the region boasts considerable natural beauty and inherent historical fascination, perhaps a hint of what would happen if factories shuttered and Mother Earth reclaimed her turf.
For a dramatic view of the transitional Ruhr reality to today's culture and tourism-friendly zone, one heads to Essen's Zollverein, a massive coalmine operation active from 1947 to 1986, morphing into a massive cultural center and museum. Why are rusty, decommissioned, and decomposing machinery and rusty I-beams so inherently seductive? Other enticements beckon in the Ruhrgebiet. I walked 15 minutes from my hotel in Kamp-Lintfort to the remarkable 12th-century abbey Kamp Kloster, with surreally dazzling garden of conical trees triggering memories of Last Year at Marienbad. Sipping a Veltins beer in the café next to this impressive old haven far from the madding modern world, the sound of Bach organ music wafted from a funeral, and I appreciated the sanctity of a sun-warmed day in the life. Do they take applications for monkdom?
In the nearer historical distance, regionally, is the Moers Festival (my primary reason for being here). Thirty-nine years old and in year five under revitalizing director Reiner Michalke, Moers has renewed its position as one of jazz's most adventurous — while also entertaining — festivals. Twenty-odd shows, in and around the avant-garde, packed into four days in a large circus big-top tent, in this idyllic park- and creek-suffused 13th-century town.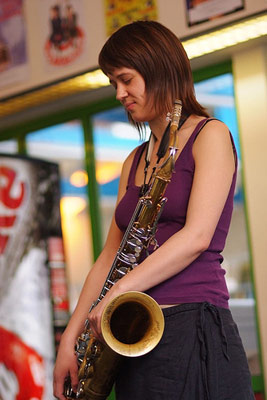 WOMEN: Moers 2010 highlighted notable guitarists and — at the risk of appearing sexist — female musicians, attesting to the increasing presence of women in the male-dominated jazz scene. Among the impressive, individualistic women here were German-turned-N.Y.C. saxist Ingrid Laubrock (performing with pianist Kris Davis and the stunningly good drummer Tyshawn Sorey); Dutch trumpeter Sanne van Hek; nimble, new-sounding pianist Johanna Borchert (with the tart, fresh and alluring art-pop-jazz band Schneeweiss und Rosenrot and nicely freeing up in the all-improvisatory "morning sessions"); and John Zorn protégé saxist Nonoko Yoshida in the young, gamely punk-jazz-free outfit Super Seaweed Sex Scandal.
GUITARS: Famed Norwegian vet Terje Rypdal opened the festival with his intriguing Crime Scene, including the Bergen Big Band and trumpeter Palle Mikkelborg as über-cool, post-Miles-y soloist, on music alternately tough and Nordic etherealness. Everybody's favorite category-busting guitar hero, Bill Frisell, showed up with his new trio with old friends — violinist Eyvind Kang and drummer Rudy Royston — and, more significantly, his first-ever meeting with new jazz hero, Norwegian trumpeter Arve Henriksen, cooking up a loose and empathetic initial encounter. More, please.
Old-guard favorites included free jazz sax commander Peter Brötzmann, with his blissfully cathartic wall-of-sound-building Chicago Tentet, and soaring in the resonant splendor of Moers's ancient church. Past Moers fest visitor Arto Lindsay was there with his fine brainy groove band, and so was Fred Frith, with his tight, prog-rock-folking Cosa Brava (featuring violinist-vocalist Carla Kihlstedt, whose CAF show still lingers in the memory). Moers 2010 ended in a fragile note, logistically — the city of Moers facing budget crunches like the rest of us earthlings — but on an entrancing series of high notes, musically. Here's looking at next year's big 4-0.