News
Josh Lynn Terminated
Acting D.A. Ann Bramsen Says Decision Based on His Recent Conduct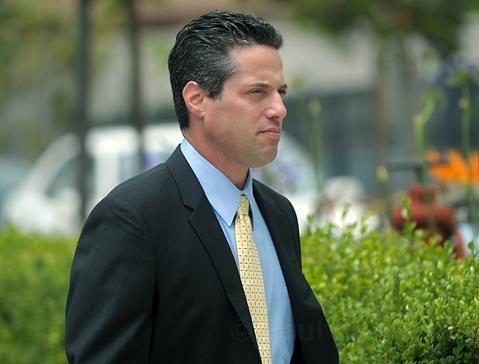 Joshua Lynn, after 15 years of employment with the Santa Barbara County District Attorney's office, has been terminated from his employment. A statement from acting D.A. Ann Bramsen was emailed to media Tuesday evening announcing the decision.
The announcement came just days after Lynn lost an election to Senior Deputy District Attorney Joyce Dudley, who will take office in the coming weeks. Bramsen, in an interview Tuesday night, said Dudley had nothing to do with the decision to terminate Lynn. "None," she said matter-of-factly when asked. She also said that the decision had nothing to do with the campaign he had run — viewed by many critics as negative — and everything to do with his actions since Friday afternoon. "Some of it is public and some of it is private," she said.
Bramsen, in the news release, explained she had made the decision Friday to give Lynn a paid day off Monday "for the purpose of reviewing the administrative organization of the District Attorney's Office and to avoid any possible disruption or impairment of the working relationships among District Attorney staff." She later expanded, saying she clearly knew Dudley's role was to transition to D.A. "His role was less clear," Bramsen said, referencing Lynn. "I wanted to take a day and figure out where he stood, define his role and responsibilities in the whole office." She told him of the plan Friday evening, clarifying that she was in fact not firing him, and that it was not a suspension.
Dudley confirmed she had begun to move some personal items into the 4th floor office once held by Stanley. She said she did so with the permission of Bramsen, and with the original understanding that she might be sworn in the Tuesday following the election. The tentative date for her swearing in is now next Tuesday.
Monday afternoon, Bramsen announced Lynn was on paid administrative leave "until a resolution can be reached." While Bramsen was otherwise silent, as was Dudley — both citing the fact that it was a personnel matter — Lynn was most certainly not, speaking with several media outlets about the move, alleging Dudley was behind it in an effort to ruin his reputation
He became locked out of his county e-mail, and had been served with a notice which informed him that a department representative would be contacting him in the coming days to "retrieve any county or department property." Absent in the notice he was served with at his home, according to Lynn, was any reasoning behind the administrative leave.
His actions subsequent to his Friday conversation with Bramsen apparently broke the camel's back, as Lynn took the administrative leave he was given, Bramsen said, and "twisted it in an inappropriate way that is negatively affecting the office." While his public actions were clear, his private ones are not, though he apparently sent an e-mail to the entire staff of the D.A. office over the weekend, a memo that was pot-stirring. Bramsen wouldn't comment on the email.
The silence from Bramsen and Dudley, teamed with an outpouring of comments from Lynn, had fueled speculation that Dudley was working behind the scenes to orchestrate Lynn's departure. But Bramsen said bluntly Tuesday that was not the case at all, an idea echoed by Dudley on Monday, who said then that Bramsen "was there all day today and remains the acting D.A." Lynn didn't return a phone call following the termination announcement Tuesday evening, while Dudley referred questions to Bramsen.
When an attorney is in a management position in the D.A.'s office, they become an "at will" employee, no longer protected by the county's Civil Service rules. Lynn had been in the chief trial deputy position for roughly two years, having been put there by former D.A. Christie Stanley, who retired before the end of her first term and then died after a long bout with lung cancer.
It was safe to say that Lynn was not going to be a part of Dudley's executive team even if he had stayed with the office. But Lynn believed all along that should he lose the election, he would lose his job. In Lynn, the office will lose a lifelong Santa Barbara resident, a professional prosecutor, and, by most accounts, a passionate, smart attorney. They also will lose the lead attorney in a capital murder case set to go to trial in September.
"Because I was so impressed with Josh and his partners in the Jesse James Hollywood case, we naturally supported Josh in this election," said Susan Markowitz, the mother of the slain victim Nicholas. Lynn prosecuted the man behind Nicholas's murder, Jesse James Hollywood. "But if it comes to light that Joyce is responsible for the dismissal of Josh, the disappointment will be great! And I ask the County of Santa Barbara to use me if needed to help make this right."
As for Dudley's transition, she had planned to meet with the DA office staff on Wednesday, the North County in the morning and the South County in the afternoon. Dudley confirmed Monday she had chosen Bramsen as a member of her executive staff, and said she hadn't made a decision as to the rest of her team. Bramsen didn't support either candidate publicly in the recently concluded election.