Arts & Entertainment
Léni Fé Bland Music Awards Anniversary Concert
A Tribute to a Great Patron of the Arts at the Lobero
The Lobero was packed this past Sunday afternoon, June 13, as friends and well-wishers from the Santa Barbara and American classical music community came together to pay tribute to one of the new century's most important patrons of individual classical artists, Baroness Léni Fé Bland. Through her Foundation Music Awards, Fé Bland has made nearly $1.5 million in grants to around 1,500 instrumentalists and singers in the past 20 years, and on Sunday, a great many of them showed up to salute their friend, benefactor, and mentor. In between performances by previous recipients of the award, video testimonials were screened in which a number of distinguished professors of music and many former honorees spoke of their gratitude to Fé Bland for encouraging young artists to pursue professional careers in music. The list of career destinations attained by Fé Bland Award artists reads like a who's who of prestigious contemporary music organizations. From the orchestra of the Los Angeles Opera to the stage at the Metropolitan Opera in New York, and throughout the best philharmonics in the country, Fé Bland scholars are disproportionately represented in the front ranks. Through her attention and generosity toward artists in the early stages of their careers, Fé Bland has created a legacy network of young and mid-career artists who will have an ongoing impact on the landscape of classical music in America for decades to come.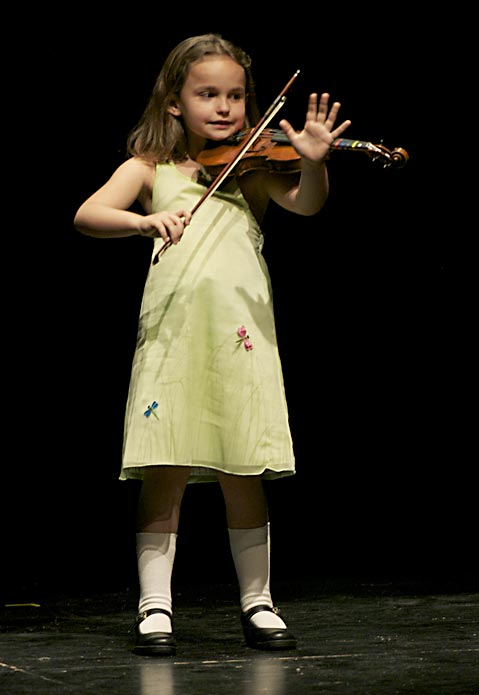 The concert was sponsored by the Santa Barbara Foundation and organized by Miwa Gofuku of the Santa Barbara Symphony. While the announced program included several truly outstanding players—including tenor Rodell Rosel, who has appeared twice with the Metropolitan Opera this season, and pianist Andrew von Oeyen, who will tour Japan this summer as soloist with the Berliner Symphoniker Orchestra—there were also many surprises, only revealed from the stage on that day. Perhaps the most unusual, and certainly the most charming, was six-year-old violinist and Fé Bland Award recipient Cassandra Carrasco, who played (and danced) her way through a devil's dance by Paganini.
The impact of Fé Bland's support and encouragement on a musician's confidence was a constant theme echoed by many of the participants in the recital. Bass/baritone Evan Hughes, a graduate of Santa Barbara High School who has recently been accepted into the Metropolitan Opera's Lindemann Young Artist Development Program, described his audition with Fé Bland for the award as the resolution of a crisis of vocation. "I knew from the way she approved of me, and of my singing," he said, "that I might just be able to really do this, to have a career and to sing for a living. She changed my life." Hughes, who was also a participant in the Marilyn Horne Foundation's On Wings of Song recital series in New York, has received excellent notices from critics, and he sang beautifully on Sunday, reprising a number that he presented as part of that life-changing audition, Phydilé by composer Henri Duparc.
After the Hughes performance, Congressmember Lois Capps and Mayor Helene Schneider took to the stage to offer Fé Bland a pair of letters of acknowledgment, one from the United States Congress and the other from the City of Santa Barbara. Then Fé Bland stood up to a prolonged standing ovation and gave a heartfelt speech of her own at the podium, thanking the Santa Barbara Foundation, Scott Reed of the Music Academy of the West, and her friend and assistant on many projects, soprano Audrey Sharpe, and declaring that she felt "as a proud parent might, when their children succeed."
The afternoon's most ambitious musical efforts were, however, yet to come, as a "Fé Bland Orchestra" consisting of more than 30 Fé Bland award honorees assembled onstage for two numbers, an Ennio Morricone piece called "Gabriel's Oboe" from the soundtrack to The Mission, which featured Dwight Parry as soloist, and an original composition by composer and conductor Cody Westheimer called The Secret Cliff. And the piece made for a beautiful close to this festive afternoon celebrating one of Santa Barbara's greatest philanthropists.