Arts & Entertainment
Real Estate at Jensen's Mainstage
New Jersey's Latest, Greatest Export Headlines Night of Rock
For those lucky enough to catch it, this week's sold-out show at Jensen's Mainstage proved to be one of those extra-special evenings in rock Santa Barbara so rarely gets. Thanks to the newly sprouted Woodsist mini-fests taking place in Big Sur (Saturday) and Los Angeles (Tuesday), three of indie's brightest up-and-comers found themselves in our neck of the woods on Monday, making for a triple bill even the bands seemed stoked on.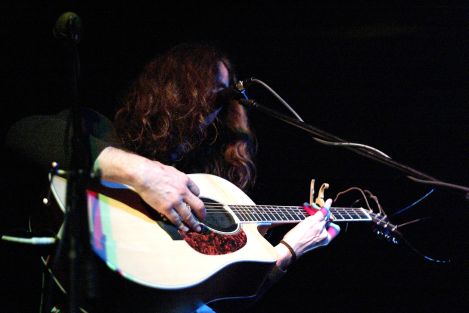 Philly singer/songwriter Kurt Vile started the night's festivities at a less-than-prompt 40 minutes past start time, but quickly proved he was well worth the wait. Currently touting his new EP, Square Shells, Vile's set consisted mostly of new jams ("Overnite Religion"), with a sprinkling of older standouts ("Dead Alive"). Of the night's three acts, Vile strayed farthest from his lo-fi label. Alone on an acoustic guitar, he strummed with fervor, demanding that every pluck reverberate with pristine clarity. And by the time he hit the melancholy set ender, "He's Alright," he had the place awestruck with the powerful simplicity of it all.
Following Vile, Woods filled the place with their washed-out psych folk to truly dizzying effect. To a small sea of fans, the four-piece battled reverb and pacing troubles to deliver newer, jammier numbers like "From the Horn" and "Suffering Season," off the recently released At Echo Lake. While most of the set packed a little too much tripped-out psychedelia for the small space, knob twiddler G. Lucas Crane's floor-bound tape deck and vocoder jockeying alone was well worth the price of admission.
At night's end, New Jersey beach lovers Real Estate still managed to feel like headliners despite all that came before them. Led by floppy-haired and bespectacled frontman Martin Courtney, the band gave fans an unflappable smattering of unreleased newer numbers (like the Pavement-esque "TV Party") and cuts off their self-titled debut ("Green River," "Fake Blues"). Among the standouts, "Pool Swimmers" found the quartet at their most dreamy and melodic as they allowed shimmering guitar parts to meander over minimal drums and washed-out lyrics, while the set-closing "Beach Comber" proved itself to be—like the rest of the night's offerings—even better live than it is recorded.