News
Suicide Barrier Construction Begins
Group Continues to Battle Against Cold Spring Bridge Project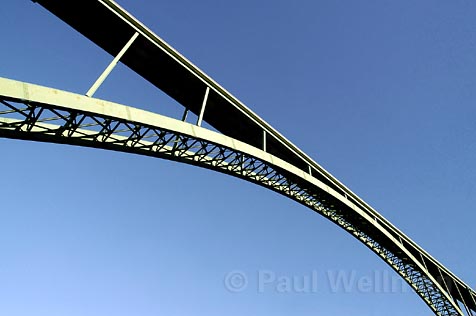 With a court date on the subject only a few weeks away, folks from Caltrans announced this week that preliminary construction on the controversial Cold Spring Bridge suicide barrier will get underway on Monday, June 28. Though the matter is slated for a July 13
hearing in Santa Barbara Superior Court as to whether or not Caltrans violated the California Environmental Quality Act during its approval of the planned 10-foot-tall metal fence aimed at curbing suicidal leaps from the historic bridge, crews will begin drilling holes in the bridge early next week as a first step toward installing the fencing.
"The contractor doing the work has assured us that this [hole drilling] is easily reversible and that no permanent damage will be done to the bridge until well after our day in court," explained attorney Marc Chytilo, who is representing the anti-barrier, pro-bridge crew known formally as Friends of the Bridge. According to Chytilo, the potential timeline for construction of the barrier — should the court appeal fail — includes two to three weeks' worth of drilling, time to measure the exact distance between the holes, and then another four to five weeks for the custom fabrication of the grid-mesh fencing panels to take place before crews would be ready to start actual installation.
Since the bridge first opened to thru traffic in 1964, some 53 people have died after purposely jumping off it.