Arts & Entertainment
Electric Daisy Carnival at the Los Angeles Memorial Coliseum
Two-Day Music Fest Brings Beats, Bruises to Downtown L.A.
Downtown Los Angeles looked like a circus freak fest this past weekend as thousands decked out in candy, neon-colored attire and extravagant makeup crowded the streets, making their way to the two-day party known as the Electronic Daisy Carnival (EDC). Over 185,000 people packed into the Los Angeles Memorial Coliseum and Exposition Park this year, according to an event rep, making it the country's largest attended music festival per day. The bash boasted over 150 of the world's most popular deejays, including Deadmau5, Kaskade, Benny Benassi, and Armin van Buuren. Even hip-hop moguls graced the electronica world, as will.i.am mixed on the main stage on Saturday night and Lil Jon hosted both nights from several stages. With inventive art installations, free carnival rides, state-of-the-art sound and lighting, and imaginative characters, dancers, and individuals roaming the grounds, EDC was an indisputable must-see, one-of-a-kind experience.
Friday
At 2 p.m. on Friday the gates were opened to a colorful sea of eager, scantily-clad festival goers, some of whom had been waiting in line since 10 a.m. As the Coliseum (aka the "Kinetic Field") began to fill, deejays Dirty South captured partygoers' attention with their popular music blends, including the Red Hot Chili Peppers' "Otherside" remix, which had the entire audience cheering and singing along. Swedish House Mafia then rocked the house with their new collaboration with Pharrell, "One," and hit single, "Leave the World Behind."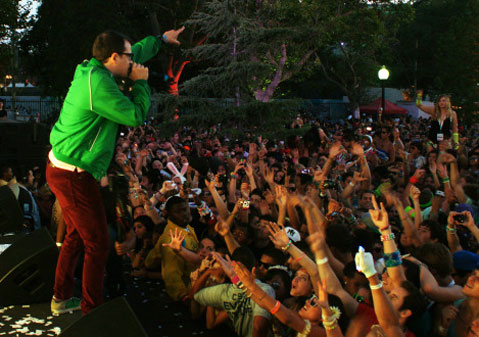 On the other side of venue at the Cosmic Meadow, Steve Aoki blew away the crowd with one of the most lively performances at EDC. Bringing out special guests like Weezer frontman Rivers Cuomo and Lil Jon, Aoki featured a number of new tracks off his soon-to-be-released album, as well as a Cristal champagne shower for the audience.
Afrojack bumped hip-hop mixes at the Circuit Grounds with the help of Lil' Jon's signature "Yeaaaahhhhhhh!" Tracks included bass-thumping techno beats including "Zeggie (A milli)" and "Silvio Ecomo & Chuckie – Moombah." Afrojack also played a second set at Kinetic Field Saturday night.
As the night crept along, Infected Mushroom's rock-infused beats, spiraling light show, and signature mushroom props provided the perfect setting for after-dark fun at the Circuit Grounds. The group offered a blowout show with their full band, including live drums, two guitars, keys, and seven albums' worth of material. The performance featured a number of favorites, including "Becoming Insane" and "Everyday Nightmares."
Afterward, Moby took the stage blasting irresistible, finely blended beats that had the crowd wild with excitement. One of the most exhilarating sets of the event, Moby showed his skill as seasoned deejay through an array of perfectly executed sounds, and his love for his fans. (At one point he even jumped out from behind the booth to the stage -length trampoline in front of the audience.) Amongst the highlights: "Sharooz – Get Off!" and "The Stars."
As one of the most sought out shows of the night, Kaskade's set was nothing short of amazing. With a mix of smooth tracks, soothing remixes, and thumping bass, he had the audience singing along and swaying to his electro-pop hits, including "Move for Me," "4AM (Adam K & Soha Remix)," and "Angel On My Shoulder."
Closing out the show in the Kinetic Field was Friday's most intriguing and highly anticipated artist, Deadmau5. Full of adoring fans donning mouse heads that mimicked the deejay's, the set was one massive dance party that found nearly everyone in attendance jumping and swaying to his intricately blended beats. Adding to the magic was a stunning high-end production setup and the new LED-activated Mau5head, which brought ecstatic cheers from the crowd. It was truly a treat to see Deadmau5 in action, and his set created the perfect ending to a near-perfect night of music.
Saturday
Day two brought in over 100,000 attendees, making for a sold-out second round at EDC. With the ground floor of the Coliseum reaching max capacity by 6 p.m., the crowd began to get unruly, with a movement of fans rushing to jump the two safety fences that guarded the main floor. Starting as just a few jumpers, the fence hoppers grew to dozens, resulting in more than 100 people being admitted to the hospital for injuries over the two days, according to the Los Angeles Times.
will.i.am, best known as the frontman and co-founder for the Black Eyed Peas, was one of the acts interrupted by the fence jumping, and had to stop his set to calm the masses. He opened with "Going Back to Cali," "Joints and Jams," Blur's "Song 2," and later included a Michael Jackson tribute. Though he had the crowd moving and consistently impressed as an artist, he proved to be a disappointment as a deejay. The set was comprised of a number of empty spots, and sloppy cuts between songs.
Afterwards, the stadium went wild to Laidback Luke's dubstep, with special guest DJ Gina Turner. Performing a number of adrenaline-pumping beats, including "Jackit," "Dirty Talk," and "For An Angel," Luke too sent audience members into a fuss, and attendees again started scrambling over the fence to get in. The music was then turned off, and Lil' Jon hopped on the mic to facilitate control over the crowd with a to-the-point, "Do you muthaf—as wanna get this party shut down?! If you see someone climbin' a fence, pull that muthaf—a dooown!" This amused the audience and sent viewers back into their seats.
Benny Benassi's set later proved to be the hands-down best of the two days, with hard, complex, bass-filled, dance-invoking beats, fireworks, pyrotechnics, a staggering laser light show, and incredibly imaginative onstage accompanying acts, including a run from the Wizard of Oz, complete with the Wicked Witch, Dorothy, and flying monkeys. Tracks included Sonic C's "Stickin'," "Satisfaction," and his new single "Spaceship," featuring Kelis and Apl.De.Ap from the Black Eyed Peas.
Elsewhere, the Bass Pod featured rhythmic, reggae-permeated sounds from Brazilian Marky, who pumped up the crowd with fast, hard-hitting lyrics and drum and bass, while Duck Sauce had viewers moving with his smooth, electro-pop beats at the Cosmic Meadow.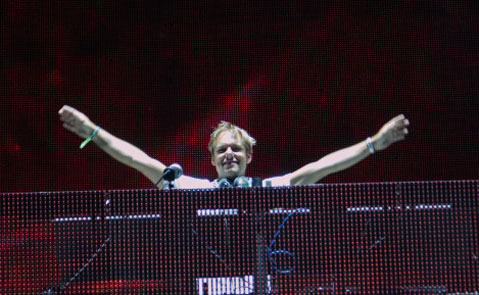 Back at the Kinetic Field, Armin Van Buuren played hard trance for his two-hour set, which included hits like D-Mad's "She Gave Happiness (Arty Remix)" mashed up with "Every Other Way Accapella," Faithless's "Not Going Insomnia," and "Broken Tonight (Alex M.o.r.p.h. Remix)."
The night ended with MSTRKRFT who pumped out raw beats that were enjoyed equally from the top of the stage to the back end of Cosmic Meadow. Performing a number of tripped out dance beats, the playlist included Human Resource's "Dominator (Jaimie Fanatic Remix)," "Leave This World Behind," and "Fist of God." Closing the final night in L.A., the band ended the flawless two-day party with an amazing set.
Electrifying and surreal, Electric Daisy Carnival is a truly unique experience that captivates attendees with an array of delights for all of the senses. The verdict on the event: it's programming and scope has slipped away much too quickly and programmers could stand to add one more night to the festivities. But perhaps cutting it short allows for fans to look forward to what excitement next year's EDC may bring.