This summer staple of weekly concerts by the faculty of the Music Academy of the West has changed venues, moving from the Lobero to Hahn Hall. Although Tuesday's opening night was not congenial weather-wise, the switch promises to be a good one for the picnic crowd, who have made the Music Academy's Friday-night student series at Hahn Hall a perennial sell-out.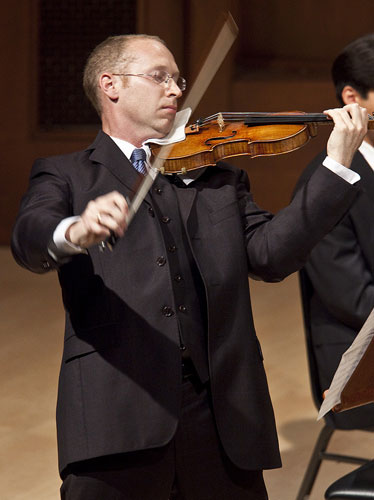 Violinist Jeff Thayer and pianist Jonathan Feldman came out first with a sonata, No. 1 in A Minor, Op. 105, by Robert Schumann. This is Schumann at his most emotionally intense, circa 1851, and the performance was suitably passionate and sophisticated. The duo was particularly successful in negotiating the complexities of the third movement, which is marked Lebhaft (meaning "lively") and includes both an ingenious perpetual-motion motif and a perplexing lack of resolution. For both the audience and the summer's fellows, this performance gave a lot to think about.
Timothy Day, flute, and Margaret McDonald, piano, were next with a contrasting work, the much lighter, more contemporary-sounding Sonata No. 2 for Flute and Piano of Philippe Gaubert. The call and response sequence at the end of the first movement was memorably charming, and the entire performance acted to dispel the June gloom of an unusually chilly evening.
Warren Jones joined Kathleen Winkler onstage after the intermission for the Sonata for Piano and Violin No. 2 in A Major, Op. 100 of Johannes Brahms. The reversal of the ordinary listing of violin and then piano in the title is the composer's own touch—he wished to assert the equality of importance of the keyboard part. Jones and Winkler absolutely thrive in this atmosphere of aching lyricism and unearthly beauty. Brahms manages to keep his composition firmly grounded in the bedrock of strict classical form while inventing one brilliant melody after another. Winkler was particularly good in the third movement, which calls for the violinist to develop a huge, mesmerizing theme all on one string of the instrument. This outstanding performance was the highlight of the evening.
Clarinetist Richie Hawley and pianist Natasha Kislenko nevertheless found a way to offer an appropriate finale to a very impressive program. The Sonata for Clarinet and Piano, FP 184 of Francis Poulenc was one of the composer's last works, and it achieves a delicate balance between religiosity and playfulness, especially in the madcap march of the third movement.